Healthy Eating
Recipe: Salted Caramel and Banoffee Bread and Butter Pudding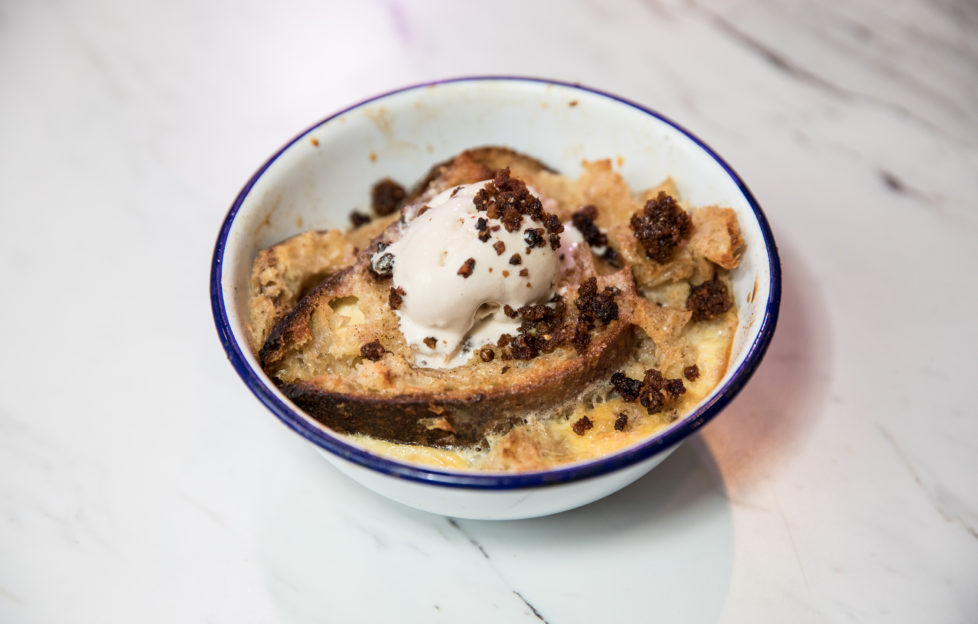 Try making this deliciously indulgent salted caramel and banoffee bread and butter pudding for a weekend dinner party treat! Made from thick slices of leftover bread, you'll impress your guests with this zero-waste classic.
This recipe is part of Hotpoint and Jamie Oliver's Eat Your Fridge Challenge, taking place this October. The campaign is encouraging people to be more mindful when it comes to cooking, eating root to stem where possible and committing to throwing away zero edible food waste.
Ingredients
8 thick slices assorted leftover bread
1 tablespoon granulated sugar
1 large overripe banana
2 tablespoons demerara sugar
For the caramel
125ml granulated sugar
60ml butter (if using salted, add slightly less salt)
1/4 teaspoon flaky sea salt (or 1/8 teaspoon table salt, more to taste)
45ml double cream
For the custard
350ml whole milk
50ml double cream
2 free-range eggs
Method
Caramel
Take a bowl or plate and line with baking parchment. Place a small heavy bottomed saucepan on a medium heat. Add the sugar and watch it carefully as it melts. You don't want to stir it around or it will crystallise, but you can occasionally tip the pan around to redistribute the sugar as it starts to melt
Once all the sugar has melted and is a lovely amber colour, remove from the heat and add in the butter, salt and cream. Stir well to incorporate and then place back on the heat and cook for another minute or so, to re-dissolve any sugar that hardened with the butter and take the caramel a shade darker
Pour the caramel into your lined bowl and place in the freezer to firm up
Once firm, remove from the freezer, turn out onto a board and cut the caramel into small squares
Custard
While the caramel is setting, make your custard
Gently warm the milk and cream in a pan over a low heat to scalding point. Don't let it boil
Crack the eggs into a bowl, add the sugar and lightly whisk until pale
Add the warm milk and cream mixture and stir well, then strain the custard into a bowl
To assemble
Take your leftover bread and slice it into thick slices or simply tear into chunks. Place a single layer of bread in a buttered pie dish, then dot with slices of banana and pieces of caramel. Repeat with the remaining bread, bananas and caramel until the dish is full
Pour the custard over the bread and gently press down to encourage it to all soak in. Leave in the fridge for 30 mins or until you are ready to bake your pudding
Preheat the oven to 170C. Sprinkle the pudding with the demerara sugar and bake until puffed and golden, about 30-40 minutes. You want the top to be golden but the pudding to still have a slight wobble in the middle
Serve with your favourite ice cream
Jamie's tips:
You can use a mixture of seeded and white sourdough breads, but anything you have lying around will do
Stale croissants or pain au chocolat would make this even more indulgent
Try freezing those pesky odds and ends of old loaves and you'll be surprised how quickly you find you have enough to make this
If making your own caramel seems scary, store bought will work too – or simply swap it for a handful of chocolate chips.