Nowadays, it's so easy to roll out of bed, grab a piping hot beverage and a bland bowl of cereal before switching on your computer and getting stuck into that day's to do list.  
But often that means you haven't given yourself enough time to wake up properly and make yourself a hearty breakfast. 
Rising just a little bit earlier means you can collect your thoughts and enjoy the most important meal of the day so you're ready for whatever is thrown at you.
To help you pack those early hours with flavour and nutrition before you jump on that Zoom call, the recipe box company Gousto have shared five breakfast recipes to power your day.
Time to make breakfast the main event of your morning!
Blueberry Porridge Recipe
The combination of blueberries, maple syrup and coconut in this porridge treat makes a bright and cheerful breakfast (and a good reason to get up in the morning!)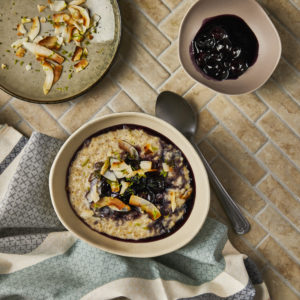 Ingredients (Serves 1)
50g blueberries
3 tbsp maple syrup
Zest of 1 lime
Coconut flakes (to taste)
45g oats
100ml milk
100ml water
Method
Step 1: Preheat your oven to 180ºC / 160ºC fan
Step 2: Add 50g of blueberries to a small pot with 2 tbsp maple syrup. Cook over a low heat until softened and the blueberries start to release their juices, then remove from the heat.
Step 3: Zest a lime in a bowl, then add coconut flakes and another tablespoon of maple syrup. Give this a good mix up, then add to a baking tray lined with baking parchment. Put into the oven for 4-5 min or until starting to turn golden.
Tip: Be sure to watch those coconut flakes like a hawk or they may burn!
Step 4: To make your porridge, add 45g oats to a saucepan with 100ml milk and 100ml water. Cook over a low heat for 4-5 min or until cooked to your liked consistency (add more milk if needed)
Step 5: Serve the porridge topped with your homemade blueberry compote and lime-toasted coconut flakes.
Sweet Or Savoury Sweet Potato Toasts 
Have you heard? Sweet potatoes are the new toast. Once topped with your favourite breakfast ingredients, they make a tasty dish so you won't be missing those grains. 

Ingredients (Serves 1)
1 medium sweet potato

Vegetable oil

Salt
Method
Step 1: To make your sweet potato 'toast,' preheat the oven to gas mark 6/200ºC/180ºC fan.  Line a baking sheet with parchment paper and drizzle with a little oil.
Step 2: Slice your potatoes lengthwise into 1cm slices and add to the baking sheet, toss in the oil to combine and then lay flat in one layer.  Sprinkle with a pinch of salt and place in the oven for 20 minutes, or until soft with golden brown spots.
Topping Ideas
Blueberry & Almond
5 minutes before your sweet potato toast is cooked, throw over a handful of frozen blueberries and return to the oven for the rest of the cooking time or until the berries are cooked through.

Meanwhile mix 1 tbsp of almond butter with 1 tbsp boiling water and 1/2 tsp of agave syrup.  

Drizzle the sauce over your blueberry sweet potato toast, and serve. 

Try cooking your sweet potato in coconut oil for a slightly fruity and nutty taste.
Mushroom & Tomato
Before you roast your sweet potato toasts in the oven, add a handful each of button mushrooms and cherry tomatoes. Drizzle with oil, add a pinch of salt and cook for 20 minutes.

5 minutes before they're done, mix 15g of pumpkin seeds and ½ tbsp tamari, then sprinkle it over your toasts before popping them back in the oven.  

Serve with freshly chopped coriander and sliced green chilli.
Spiced Shakshuka With Feta & Crunchy Pitta
What could be better than starting the morning by having golden, runny eggs poached in a rich, tangy tomato sauce studded with sweet red pepper, and showered with fresh herbs and creamy feta cheese. What a way to wake up!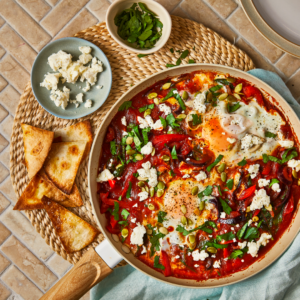 Ingredients (Serves 2)
1 Red onion
1 Red pepper
2 British free-range eggs
2 Garlic cloves
2 tsp smoked paprika
½ tsp cayenne pepper
5g Parsley
15g Pumpkin seeds
80g Baby leaf spinach
½ vegetable stock cube
30g Greek feta cheese
Method
Step 1: Preheat the oven to 200°C/ 180°C (fan)/ 395°F/ Gas 6. Boil half a kettle and peel and finely slice the red onion. Deseed the red pepper (scrape the seeds and pith out with a teaspoon) and cut into thin strips.
Step 2: Heat a large, wide-based pan (preferably non-stick with a matching lid) with 1 tbsp [2 tbsp] olive oil over a medium heat. Once hot, add the sliced onion and pepper with a pinch of salt and cook for 5-6 min or until softened
Step 3: Meanwhile, peel and finely chop (or grate) the garlic. Dissolve 1/2 [1] Knorr vegetable stock cube in 100ml [150ml] boiled water.
Step 4: Once the peppers and onions have softened, add the chopped garlic, smoked paprika, ground cumin and the cayenne pepper (can't handle the heat? Go easy!) Cook for 1-2 min or until fragrant. Wash the spinach.
Step 5: Once fragrant, add the chopped tomatoes and vegetable stock to the pan. Increase the heat to high and bring to the boil. Once boiling, reduce the heat to medium and cook for 6-8 min or until thickened. Once the sauce has thickened, add the washed spinach and cook until wilted – this is your tomato sauce.
Step 6: While the sauce thickens, cut the wholemeal pittas into triangles. Add the pitta triangles to a baking tray. Put the tray in the oven and cook for 8-10 min or until the pitta is crunchy and toasted.
Step 7: Once the spinach has wilted, crack the eggs over the tomato sauce and cook, covered, for 4-5 min or until the eggs are cooked through – this is your shakshuka. Roughly chop the parsley, including the stalks.
Serve the shakshuka with the toasted pitta triangles to the side. Garnish with the chopped parsley, pumpkin seeds and a grind of black pepper. Crumble over the Greek feta cheese and enjoy!
For more recipe inspiration head over to: https://www.gousto.co.uk/