Healthy Eating
Foods To Beat The Heat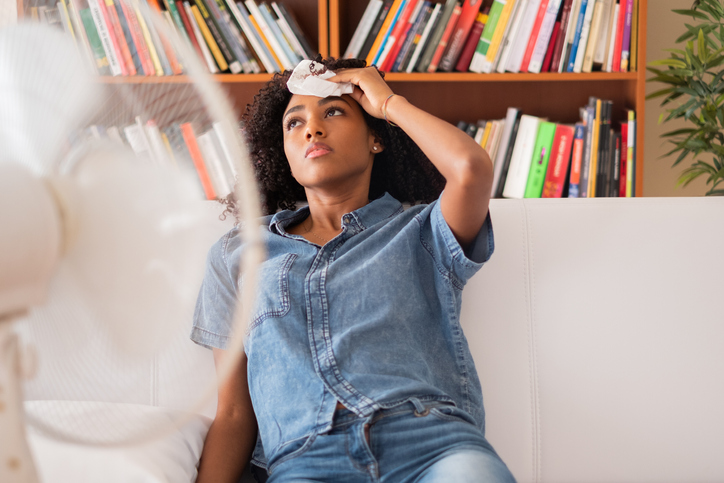 Black woman sweating and trying to refresh at home
There's record temperatures predicted for this August bank holiday, so make sure you keep cool with these foods to beat the heat, revealed by innovative retail tech app, Ubamarket.
1. Watermelon
Watermelon is a refreshing fruit which is perfect for the whole family. Not only is watermelon extremely delicious, but it is also packed with nutrition to help keep your energy levels up all through the hot bank holiday days.
2. Chicken Caesar salad
Often in the heat, many Brits turn away from the traditional, carb heavy fish and chips, roast dinners and steak and ale pies. When the temperature begins to rise, people seem to search for lighter meal options, and a chicken Caesar salad can be a tasty alternative and a perfect way for meat-lovers to still enjoy their 'meat-fix' at the weekend.
3. Vegetable halloumi skewers
There is bound to be thousands of barbecues being fired up this weekend and if you are looking for recipe inspiration then vegetable and halloumi skewers are often a popular choice. Currently with over 2,300 likes on Instagram, a dish of vegetable skewers may be worthwhile bringing to British barbecues this bank holiday.
4. Ice lollies
Although health experts have revealed that the initial cooling effect of an ice lolly is rapidly replaced by heat generated by the body's digestive processes needed to break down the nutrients, popular opinion still remains that is that ice lollies and ice creams are best enjoyed under the summer sun. This weekend, if you are looking to indulge in a sweet treat, then you can definitely do this guilt-free this weekend!
5. Water
It is vital to drink water throughout this hot bank holiday weekend as it helps replenish the fluids lost by excessive sweating. If you don't get enough water, you may become dehydrated, and the combination of hot temperatures and dehydration can lead to serious heat-related illnesses.