Fitness
Your Guide To Achieving Results From Home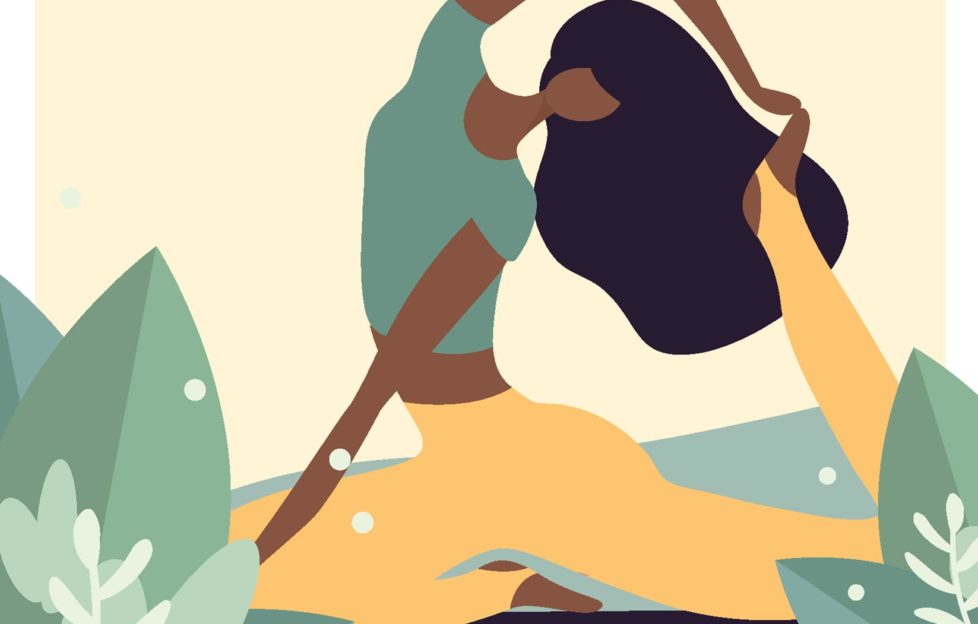 Whether it's a running sesh, a yoga class or simply playing with your kids – here's the latest news and views on how to move more this month
Time spent at home doesn't have to mean that your fitness routine falls by the wayside. While it can be difficult to find a few spare minutes if you're WFH or home-schooling (or even doing both at the same time) the benefits that come with exercising regularly are tenfold – particularly if you feel like your mental health has taken a knock recently. Thankfully, there's a plethora of online workouts just waiting to be discovered to help you along your way, and your next workout tool? Well, that might just be sitting in your child's play area…
If you love to move mindfully
Al-fresco yoga
Yoga and mindfulness techniques can be helpful in calming your nervous system and helping to centre your emotions. In fact, a study in The Frontiers of Human Neuroscience suggests that yoga techniques can work on the vagus nerve (which runs from the brain to the abdomen) to stimulate the peripheral nervous system, relieving anxiety and aiding relaxation. You might have had to forfeit your weekly yoga session, but there's plenty of online guidance to inspire you to get moving – all you need is a mat.
Try it…
Feeling overwhelmed? Then head to yourfitnesstoday.com to find our long list of yoga workouts for relieving tension, to relax and unwind and swerving stress. Just type yoga into the search bar and you'll find plenty of workouts that you can get stuck into.
Garden party Pilates
"There are many benefits to practising regular Pilates," says Pilates instructor Gaby Noble (urbanretreat.com). "It works all the muscles (including the smaller ones) and the joints in your body that other forms of exercise miss. It's also great for soothing a frazzled mind. Combining controlled movement while focusing on the breath calms the nervous system down. It's incredible for anyone recovering from an injury or post-surgery and it can support pre and postnatal care for new and soon-to-be mums."
Try it…
"Practice Pilates for anything from 10-15 minutes a day to keep the body functional and mobile, to 45 minutes to one hour," says Gaby. "Do it four times per week for optimum results."
If you want to break a sweat
Circuit training
"Circuit training is great for the garden as, depending on the activity and intensity, it doesn't require any equipment and works the whole body in a very short space of time," says PT Jason Briggs (shoehero.com). "A great way to get started at home is to designate a space in each part of your garden for each workout you want to do."
Try it…
"I suggest that you adopt as many different exercises into your circuit training as possible. This will ensure that you are consistently engaged and present. When you've assigned an exercise to each area of the garden, determine the number of reps that you will repeat. Write it down and put it in a place where you can see it at every point. I suggest repeating your circuit three to five times for best results."
Bodyweight exercises
"Bodyweight exercise is a great option for at-home workouts as they require no equipment and they're great for toning and building strength. "Bodyweight tasks start off the mat," says Jason. "Ensure that you do your research and know exactly how you need to position yourself to protect your back, neck, shoulders and knees. When working out, preventing injury should come before anything else you do."
Give it a go
"A great starting point is a glute bridge," says Jason. "This is a great hip-opener and helps to release tension from the lower back. It's fantastic for people who have sat at a computer all day."
1. Lay on your back with your shoulders under your spine, your legs should be bent and shoulder-width apart.
2. Using all four corners of your feet, with your palms on the floor, contract your glutes and lift your hips up towards the ceiling.
Ease yourself in
While it might be tempting to start scheduling in daily HIIT workouts, bear in mind that while your mentality might have shifted during the lockdown, your body is still where it was before this all happened. Compare your current daily activity to how much you did previously, and make sure you make time for rest days and slower movement.
If you're short on time
Skipping
"It's a great cardiovascular workout," says PT Divan Kombrink (urbanretreat.co.uk). "You can also gain a great level of fitness if you do it at a high intensity. It promotes good bone density, tones the lower body, and can burn a lot of calories in a short period of time. All fitness levels can benefit, as long as you don't have underlying injuries. It's cheap, effective and you can roughly burn 1,500 calories in an hour."
Try it…
"A really good target to start with is 20 minutes a day," says Divan. "Even as a beginner you can do five minutes, two to three times a day and see great results. It promotes good coordination and targets the top percentage of your heart rate zone."
Trampolining
Not only is trampolining loads of fun, but it can help improve your bone density, strengthen your cells, enhance lymphatic circulation and even help boost your immunity. In fact, a study carried out by NASA found that 10 minutes of bouncing on a trampoline is a better cardiovascular workout than 33 minutes of running. It's also a chance to improve your coordination, as you learn to control your arms and legs while bouncing and adjust the position of your body accordingly.
Try it…
The optimum time for an effective trampolining workout? Go for 20 or 30 minutes and don't forget to press into your heels as you lift off, as this will help activate your glutes.
Hula hooping
You might not have thought about a hula hoop since you last picked up a meal deal during your lunch hour, but we're talking about the childhood throwback, rather than the potato crisp. This cheap workout tool can produce some serious core gains. A study at the University of Wisconsin-La Crosse showed that hula hooping strengthens your core, and, depending on what you do, can help to sculpt the rest of your body, too.
Try it…
Start by hooping (true tech term) for fiveminute intervals, then increase your work out in five-minute increments until you are hooping for 20-30 minutes. So what are you waiting for? Get spinning!
Household essentials
Working out at home means it's time to get inventive with your kit. Take a look around you. A garden bench can make a great place to do Bulgarian squats and a loaded backpack can add an extra burn to a cardio routine. And don't forget, a large pint of milk can make a great kettlebell — just don't let go of it mid-swing!