Fitness
Twice The Health: How They're Staying Motivated During Lock-Down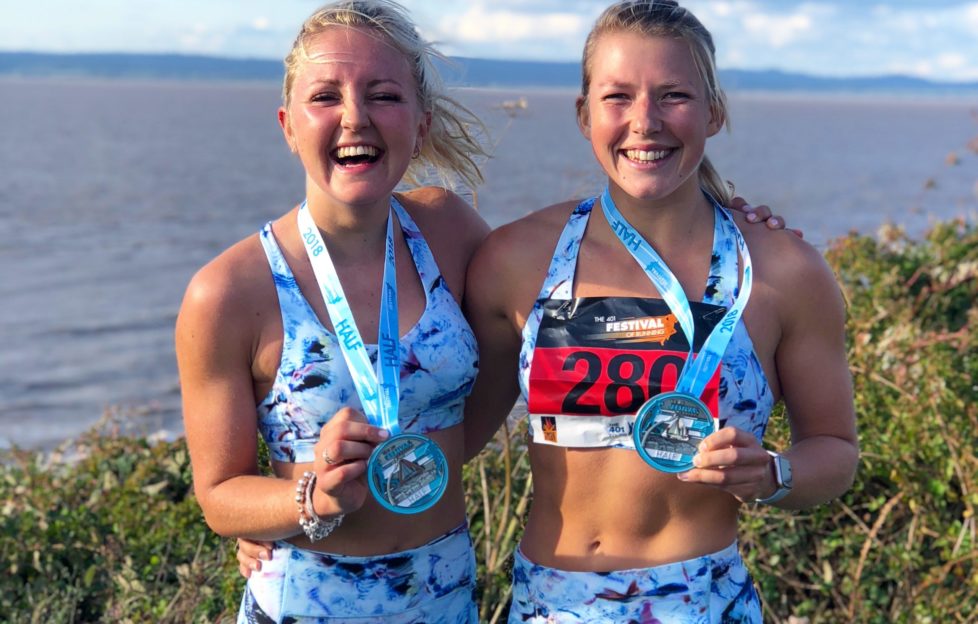 For nutritionist Emily and PT Hannah, motivation and goal-getting is at the forefront of their message, but with the UK on lock-down and everyone getting used to the new 'normal', we asked the dynamic duo how they're keeping on top of their fitness levels and what inspires them to tackle their next challenge.
1. How are you maintaining a sense of routine during lock down?
"To be totally honest, it took us a little while to master this. We got a bit smug with the extra hours and allowed ourselves to be a little lazy at first, but after the first week, we soon missed our lack of routine and so began to introduce a new, slightly amended one.
"The best piece of advice we can give is do not put too much pressure on yourself to maintain the routine you usually follow. If the alarm goes off a little later and you workout at lunch rather than the morning, that's OK.
"If you find yourself snacking a little more, that's OK too, just be sure to snack smart. We've found plenty of perks in our new routines, including extra sleep, less stress and more time to spend on things, such as mobility and stretching.
"For example, sometimes we sleep in a bit longer, rather than waking at the crack of dawn and just give ourselves 20 minutes to move how our bodies want to with a mobility sequence, as opposed to working out first thing.
"We will then workout at lunch, and work a little later into the evenings to avoid snacking excessively in the run up to dinner. Dinner then lands a little earlier – since we are not out at run clubs or events – meaning we have time in the evening to switch off and enjoy each others company, along with our boyfriends who live with us too. (Yes, it's a mad house!)"
2. Do you have any tips to stay motivated and on top of your fitness levels with the current circumstances?
"While some have chosen to back off any goal-chasing during this period, we're motivated by events, challenges and future achievements, so for us, it's still keeping a goal in sight.
"We're lucky enough to have an event that's still going ahead towards the end of the summer and, while we're uncertain of the future, we're going off hope (and a lot of excitement!).
"The event in question is a big one for us both, so we're turning the extra time (without races in the middle) into a positive and prioritising a solid training block in the run-up to it. Another point to add is this challenge is a bit different from our previous ones, so it's giving us a new focus, presenting new challenges and allowing us to make marginal gains every week.
"Our advice here would be don't be scared about setting your sights on something. It could be to be able to do 10 press-ups, or it could be a race later on in the year. Create a plan around it, and follow it. There is nothing like a new challenge to get you excited, motivated and enthused to be training, whatever that looks like."
3. What do you eat in a day?
"This changes every single day. We class ourselves as endurance athletes, so this means our training volume in the run-up to an event is generally quite high, and in the weeks it's not, we're recovering, so nutrition is critical here too.
Hannah's typical diet:
Breakfast: eggs, chorizo and rocket on toast with a sprinkling or pile(!) of cheese, plus an oat milk coffee
Snack: a piece of Alice Liveing's banana bread (but we make it with Dairy Milk instead of dates) with butter
Lunch: sweet potato jackets with tuna, sweetcorn and cheese and a big side salad for good measure
Post-training snack: white chocolate barbells and another oat milk coffee
Dinner: a Mindful Chef meal. Hannah's favourite is the chicken kiev
Emily's typical diet:
Breakfast: full fat yoghurt with muesli, granola, fresh fruit and honey
Snack: a piece of Alice Liveing's banana bread with honey
Lunch: sweet potato jackets with tuna, sweetcorn and cheese and a big side salad for good measure
Post-training snack: Pics peanut butter on a piece of toast
Dinner: a meal from Mindful Chef. Emily loves the BBQ beans and sweet potato wedges, followed by an Oppo ice cream salted caramel stick
4. How do you prioritise sleep?
"Quite simply, we prioritise it. Hannah spent many years thinking it wasn't important, but now she is a total nightmare if she gets less than seven hours! Our lifestyles and hobbies are extremely demanding, and there's no way we could live the way we do if we did not recover well.
"We're early birds (even if sometimes we do not want to be), so we're always in bed pretty early (10 pm latest). In recent months, we've also made sure to only allow alarms before six if necessary.
"We used to be up before 6am quite regularly, but now we try to avoid this, especially with more evening commitments thanks to our ever-growing We are Runners run clubs. In short, get into bed early to allow yourself to switch off from work/life and doze off quickly to maximise quality sleep."
5. What inspires you to take on your next challenge?
"Each other! Cheesy, right? Maybe, but it is true! We have different strengths, physically and mentally, so we often lean on each other for support and advice. Our next challenge, an Ironman, is one that will be lead by Emily in terms of strength, so for Hannah, it's incredible to watch and be inspired by her strengths.
"Last year, Hannah took on a pretty monstrous challenge and Emily supported her all the way, and will take inspiration from the feat overcome back then. We're forever bouncing off each other, and when one dips, the other often peaks, so it is easy to reach out when we need to a little motivation.
"On top of that, our incredible extended family of We are Runners are always easily accessible inspiration. There has been a number of times we've rocked up to runs clubs uninspired, and a bit tired but this gang never fail to pick us up, boost our spirits and offer just the run revitalisation we need!"
6. What is your favourite post-run snack?
Hannah: Ham sandwich (thick-cut ham, chunky sourdough and plenty of butter), a Pepsi max and milky coffee
Emily: Toast with hummus on one, and peanut butter and jam on the other
7. What's it like working with your best friend? Any tips for keeping the peace when you don't agree?
"We get asked this a lot, and in all honesty, we don't really argue. We know each other incredibly well now, and we know where our strengths and weaknesses lie. We're quick to back down when we know we're wrong and reach out to each other when we need their knowledge.
"If we don't agree, we will say so straight away. We certainly don't bicker or hold grudges, as we're much more like sisters in that respect."
8. How are you prioritising your one exercise a day?
"It's got to be a run. Although we're training for an Ironman, we're keeping all our riding inside on our Wahoo Turbo trainer to avoid adding any extra potential strain on the NHS.
"This means that when we have a run on the cards we can get outside, get some fresh air and tick off our training a the same time. We have seen (and heard) so many people taking up running, and we are delighted by it!
"So many more people are now finally getting why we bang on about it so much. Head space, time out and the ultimate endorphins boost. Don't say we didn't warn you!"
For home workouts and tips on running, follow Emily and Hannah on Instagram.