Fitness
This Is How To Make WFH Genuinely Enjoyable This Christmas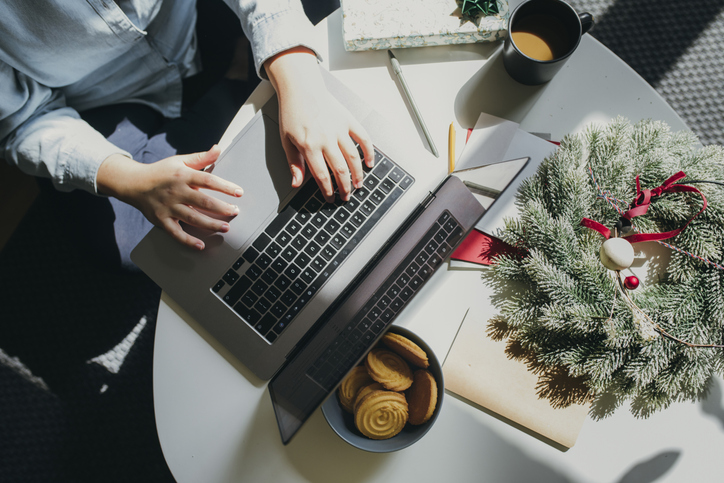 Hands of an anonymous woman typing on a laptop keyboard in a Christmas setting, a close up.
We all know that getting into the Christmas spirit while WFH is going to be a challenge this year.
Even when it was business as usual, darker days make our 9-5's that bit more difficult.
Friday pub outings and office Christmas parties might be off the cards for now, but we all still need things to look forward to.
Luckily, there are still plenty of ways to improve the outlook of working from home over the coming weeks.
Dress For The Occasion
If you're in need of a pick-me-up, a little effort can go a long way when it comes to your WFH outfit.
We're not suggesting you go back to your work wardrobe, but you could try out your boldest lipstick and wear your most garish t-shirts with pride.
Your favourite dress is just as suited to cheering up your Monday as it once was to weekend plans. Or, if it's a pair of shoes that make you happy, strut them around for a get-up-and-go mentality without even leaving the house.
Boost Your Endorphins With A Morning Workout
If working out always used to be your way of starting the day right, don't let your hard work fall by the wayside just because the gyms are closed.
Get your endorphin hit by opting for a run outside instead. Without a commute to factor into your routine, this is a great way to steal some precious morning light, too.
And if the mental health benefits of natural light and fresh air alone aren't enough to get you out of bed, recruit a friend for a socially-distanced jog.
Can't face the chill? There are endless influencers hosting free workout videos on Instagram.
Overhaul Your Desk Set-Up
You can also make use of clever tech from the likes of Vitrue Health to make your desk set-up as healthy as can be. Its handy tool uses your webcam to assess your work station: from the height of your screen and your posture, to the amount of natural light seeping in and whether there are plants nearby.
It'll then suggest some simple ways that you can optimise your set-up, for a happier, healthier and more ergonomic working day.
It might be dark outside, but it needn't be dark at your desk. Why not put your oat milk flat white savings towards flowers? A colourful bunch of blooms is an ideal way to perk up your work from home setup.
Treat Yourself To Lunch
If you'd rather spend your pennies on food than flowers, you're not alone: food is the ultimate source of happiness!
And with popular chains out of reach for most remote workers, now is the time to look towards our local highstreets.
Many independent cafes, delis and bakeries are offering takeaway – and depending on your tier you might be able to sit in.
They need our support just as much as we need the boost that comes with taking a break from our desk, popping out for some fresh air and treating ourselves to some wholesome fuel at lunchtime.
Recreate The Office Tea Station
Everyone knows that a hot drink and a debrief can put the world to rights if you're feeling low.
In many companies, the tea station is a trusty source of both. So, during these gloomier days especially, don't sacrifice the office ritual of congregating around the kettle just because you're working from home.
Wherever there is a kitchen to escape from your laptop to, and friends, family or partners to offload onto, the tea station can be recreated. Schedule in time to call a colleague if it's just not the same without them.
Bourbons are optional.
Curate The Perfect Soundtrack
Perhaps it's more the office tunes than the people that you're missing, as music and mood directly correlate.
So if you've been in a work-slump recently, it might be time to rethink those melancholy playlists and seek inspiration from whoever controlled the aux in the office.
You could even start a collaborative Spotify playlist with your colleagues. Having a reason to chat about something other than work always offers a welcome break.
Plus, you can design the ultimate playlist for productivity and all-round good vibes.
Start Getting Festive
Without the infamous office party to look forward to this year, there's every reason to get creative about alternative celebrations.
So start dropping hints to your office manager about organising festivities you don't need to worry about having to cancel.
Yes, this means bringing back the Zoom pub quiz, and adding a budget for drinks and party hats.