Fitness
The Easiest Way To Start Running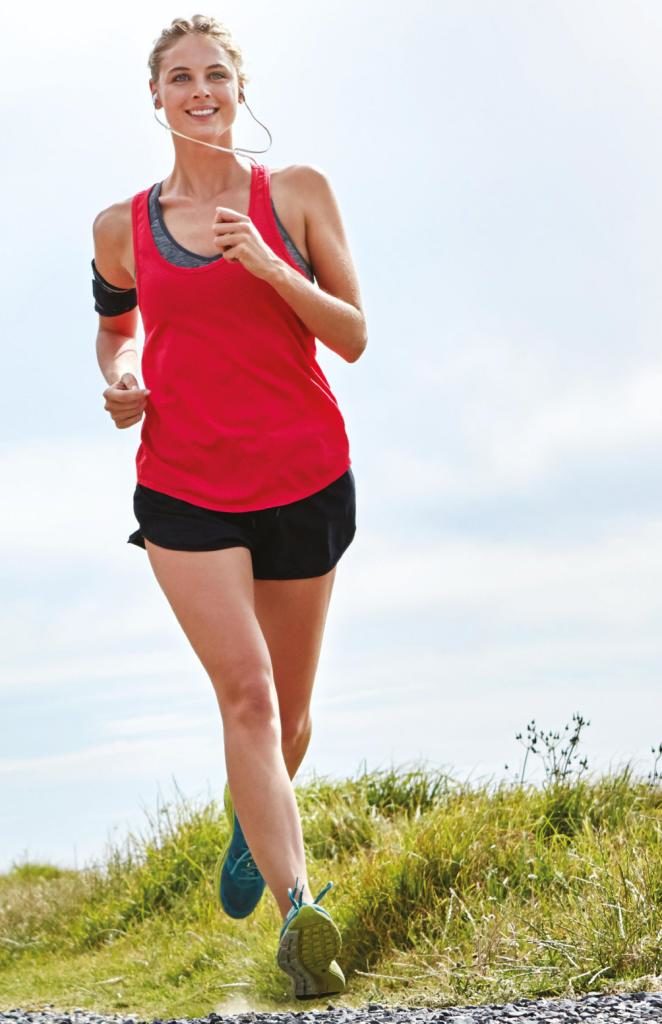 Start slow and small
"Start slow," says running coach and champion Karen Weir (runwithkaren.com). "Running is a weight bearing exercise and even fit people need to get muscles conditioned to running to avoid injury." Fitness trainer Marianne Clark, agrees, and says focus on building cardio fitness and stamina, not speed. "You should be able to hold a conversation while you run and if you can't, slow down."
"Don't go out there in the first week and give Mo Farah a run for his money!" adds world-record marathon runner Fiona Oakes. "̒Regular and realistic' is my mantra. Have attainable short, medium and long-term targets that are not just based on what you can do physically but what your work and social schedule permits. Running is about your mental ability and achievement too – listen to what your body is telling you."
And don't be afraid to rest. "Allow for easier, recovery weeks every three to four weeks as this will help reduce risk of injury," says running physiotherapist Tom Goon (thephysiorooms.com).
Try both road and treadmill
Treadmills are a great way to get going because the cushioned belt provides more support, but once you're feeling more confident (or bored of four walls) – add variety. "You can get just as fit on a treadmill as running outdoors – and they're great for interval and speed training – but outdoor running promotes a natural stride and pace," says Clark. "Outdoors there's also variety – terrain, surroundings, weather etc – as well as added vitamin D! Try off-road grass or trails, which are more forgiving underfoot but more challenging because of the uneven surfaces."
Embrace discomfort
That first few minutes of a jog can feel anything but a fun run – even for experienced runners. "Some people describe it as 'running through treacle', says Clark. "It takes time for your cardio system and muscles to warm up, and this will continue regardless of your experience."
"Running is uncomfortable and may not get any easier – but that's okay!" adds Weir. "Beginner runners think it should be effortless but you should find ways to embrace the discomfort. Just think about how amazing you'll feel at the end, for example."
Be a goody two shoes
"A decent, well-fitting running shoe, properly fitted by experts, is a must for a run," says Weir. Fiona Oakes agrees. "Most good shops will do personalised gait analysis, which detects things like over or under pronation, cushioning and shock absorbency, and the best style for your discipline, distance and terrain. A good, well fitting pair of socks will provide extra cushioning and blister prevention, and a well-fitting sports bra is highly recommended!"
Hone your technique
While everyone's technique is different, follow Clark's five-point guide to improve your style:
Stand tall (don't slouch) and keep shoulders relaxed
Don't overstride – make sure your front foot doesn't extend beyond your knee
Don't shuffle – lift your heels towards your bum at the back of your stride
Pump your arms forwards and backwards (not across your body) to create balance and momentum
There is no set rule about breathing, so experiment with what feels natural and takes the least effort. If you are constantly out of breath, slow down!
Go for gold
Whether its off-road, on-road, mud runs or obstacle races, there's an event for every ability. Start with these entry-level events:
Park Runs (parkrun.org.uk): Weekly, free, 5k timed runs in local parks, open to all abilities.
Race for Life (raceforlife.cancerresearchuk.org): A great way to use your new hobby for a good cause.
Colour Runs (colour5k.co.uk): Run through colourful powders and, at the end, chart your progress with your very own t-shirt masterpiece!
What next?
"Once you've built up your basic fitness, challenge yourself," says Clark. "Build up speed, extend the distance and find challenging terrain." Run coach Karen Weir recommends joining a running club. "It takes courage to do this but they are very welcoming. Try Run Together (runtogether.co.uk), which offer informal groups across the UK," she says. "It's much easier to stay motivated if you're surrounded by like-minded people and make it a social event."
Beginner running workout
Try sports coach Marianne Clark's eight-stage walk-run plan, which will see you running for 30 minutes in no time!
1. Run 1 min, walk 90 secs x 12 (12 mins run, 18 mins walk)
2. Run 2 mins, walk 90 secs x 8 (16 mins run, 12 mins walk)
3. Run 4 mins, walk 90 secs x 5 (20 mins run, 7.5 mins walk)
4. Run 6 mins, walk 90 secs x 4 (24 mins run, 6 mins walk)
5. Run 8 mins, walk 60 secs x 3 (24 mins run, 3 mins walk)
6. Run 9 mins, walk 60 secs x 3 (27 mins run, 3 mins walk)
7. Run 5 mins, walk 90 secs, run 10 mins, walk 90 secs x 2 (30 mins run, 6 mins walk)
8. Run 15 mins, walk 90 secs x 2 (30 mins run, 3 mins walk)
Clark's workout tips
Don't run on consecutive days and complete each stage at least twice before moving on to the next one.
Stick to the flat initially, but introduce inclines as you progress.
Time your intervals with a watch or download an interval timer onto your phone.
Your run pace should be easy; your walking intervals should be brisk.
Do it with a friend – it is so much easier in good company and a great distraction!
Best jogger bloggers
Want to know how real runners run? We round up some follow-worthy fit-bits and get their jogging gems…
Experienced marathon runner Emma Neachell, 38, from Sutton Coldfield, named her blog after the fact she starting running during her studies. "I'm not afraid to write about the not-so-glamorous aspects of running or share photos of me looking less than perfect!" says Emma.
Top tip: "Join a local running club. This will prevent you from doing too much too soon and you'll make new friends."
Kent based 40-something Cathy White has been running for 11 years since she stopped smoking. Her proudest moment was completing her first 5k race. "It didn't seem that long ago since I thought that was too far to walk, let alone run!" says Cathy. "For that reason, my blog never takes itself too seriously."
Top tip: "Get a schedule such as Couch to 5k, which builds you up slowly so you don't get disheartened. I didn't and I managed about 3ft of the local park before doubling over with a coughing fit."
32-year-old Mary Pearson, from Northamptonshire, started running in 2011 and has since completed marathons and ultra-marathons as well as the 70-mile Grim Reaper race – seven days before her wedding! "Because I lead a very busy life, I regularly suggest ways to fit running in around existing commitments, and children," says Mary. "And as I'm not a particularly fast runner, I prove that anybody can start running!"
Top tip: "Tie your running into a follow-up trip to a coffee shop so you are more inclined to head out even if you weren't really 'feeling it' to start with."
Ultramarathon runners Emma Lax, 30, and Charlotte Thomas, 39, wanted to create something for normal women who were into fitness but also had a life outside the gym.
Top tip: "Just do it. Running at school was so off-putting but running as an adult doesn't need to be like that: simply put some trainers on and try it!"
Trainee registered dietician and marathon runner Charlie Watson, 28, from Henley on Thames, likes to share the ups and downs of running and the realities of marathon training. "I'm proof you can run even if you think you're not a runner," says Charlie. "I don't have abs, I like my post run tea and cake, and I'm happy to talk about the gross side: toilet breaks, missing toenails and chafed nipples!"
Top tip: "Don't bolt out the door at sprint pace – start just faster than a walk and pick up the speed until you find a 'happy pace' where you can run for a mile or two. On my first run, I only made it to the end of my street before having to pretend to stretch at the postbox to catch my breath."