Fitness
Rebecca Adlington: "It's Important To Believe In Yourself Even When You Think No One Else Does"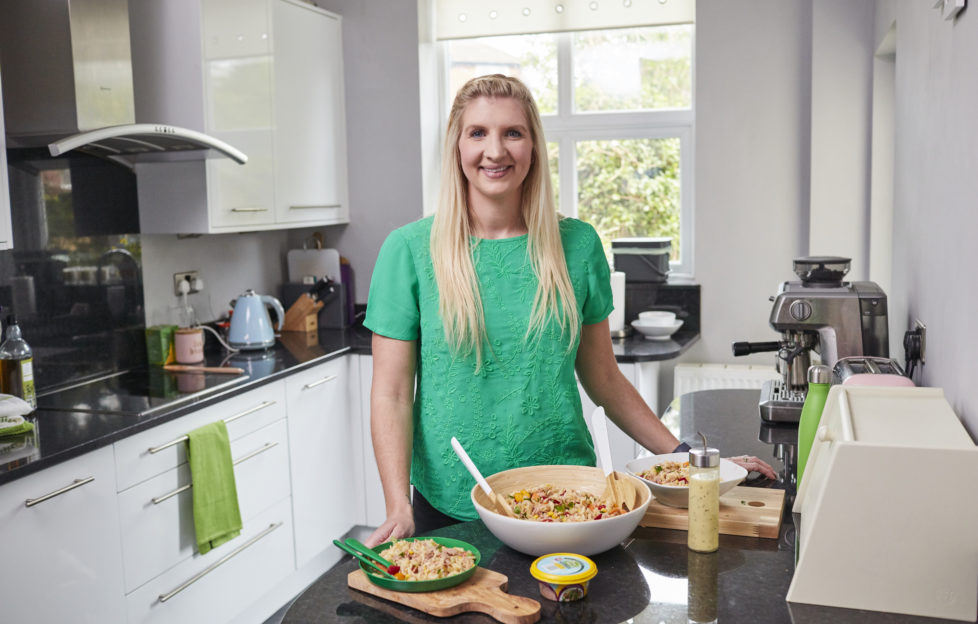 It's not often that we get to have a sneak peak into the life of an Olympic gold medallist.
Here, Rebecca Adlington shares her favourite lockdown workouts and how she balances family time with self-care.
Be prepared to take notes.
What is your daily routine?
"I don't have an exact daily routine. I have my daughter Summer for three days, then she's with her dad for three days.
"With Summer, we wake at 7am and eat breakfast at 8am. Then, we spend the morning playing, going on a dog walk, doing arts and crafts and then we have lunch at midday. The afternoon is spent doing a bit of learning and school type work, as she's only four.
"We love getting out in the garden on the trampoline, too. The days I'm not with Summer, I exercise in the morning for an hour and then the afternoon is spent working. I finish around 6pm, eat tea and watch a film in the evening, plus zoom calls with friends and family."
How has women's sport changed since you were competing?
"I'm lucky I'm part of an Olympic sport which is very mixed and more equal. Swimming in particular is very equal.
"It's more from a staff and coaching side that it tends to be male-dominated. London 2012 helped I thought too. Seeing athletes, such as Dame Jessica Ennis-Hill and Vicky Pendleton on the front of magazines helped raise the profile more for women.
"The past decade has been great for role models with so much media coverage and high profile events, for example millions tuned in to watch the Women's World Cup, which was incredible.
"It's definitely more visible now than it ever was, but there's still a long way to go. Getting more girls into sport and the recruiting process needs to improve, as male sport still dominates the headlines.
"The funding isn't the same yet, even though it has got better, but that will come with the media and increasing interest in women's sport. Seeing more women in higher up positions within the sports too and having more managers and female coaches definitely helps."
What are your favourite workouts?
"I love going to the gym, so I'm really missing that and be able to go for a swim. My lockdown workouts are HIIT-based sessions or running, which I do four times a week using mostly online content, such as H1ve and the FIIT app.
"Then, I run twice a week at around 10k. I walk the dogs most days too, so am pretty active every day."
How do you balance family time and self-care?
"I feel like most people find it hard to balance that. It's been easier as Summer has got slightly older and can play more independently.
"For me I just like the simple things, such as my cup of tea in the morning, walking the dogs and being outside and I love candles and lighting them at night when I can relax."
What's on your plate today?
"Breakfast was a protein shake with almond milk, as I did a workout first thing. My lunch was tuna pasta with tomatoes, sweetcorn and peppers.
"Tea is homemade wraps with chicken, salad and tzatiki. I also drink black coffee, herbal tea and water throughout the day. Normally, I have a little treat in there too, such as a handful of sweets or a biscuit, or something as a dessert."
What advice would you give your younger self?
"This is a hard one, as I believe I've learnt so much from any mistakes I've made. Everything happens for a reason and it's made me who I am today.
"I guess it's simply to trust your gut, believe in yourself and enjoy the journey. It's very easy to get wrapped up in things, especially when they are stressful and hard.
"However, it's important to take time to reflect and enjoy it more. It's also important to have fun and never stop believing in yourself even when you feel like no one else does!"
Credit: Rebecca Adlington supports John West's #GetYourselfShipShape campaign