Fitness
Mental Health: Managing Sleep, Stress and Strength While Social Distancing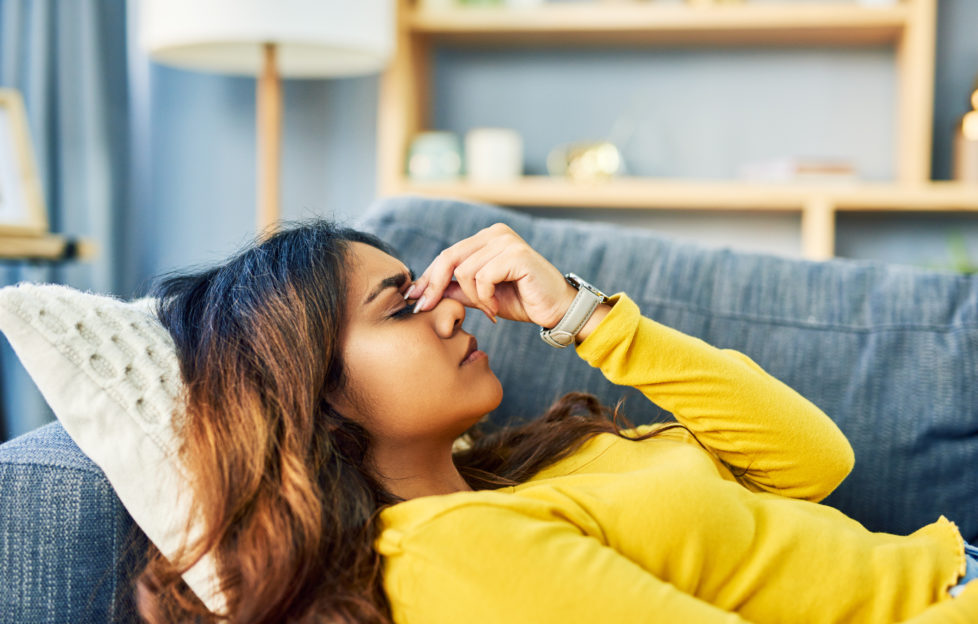 Shot of a young woman experiencing a bad headache while relaxing at home
Let's face it: life as we know it has been well and truly turned on its head, wreaking havoc with our fitness and sleep regimes.
How do we now exercise? What's now the best solution to deal with stress? And how are we going to sleep if we can't get out and burn off the same amount of energy? These are all valid questions in current circumstances.
With people across the nation struggling to sleep as it is, Mindbody, the leading technology platform for the wellness industry has some insights and tips to help with this. In these testing times, it's essential that people stay on top of their sleep, stress and strength to stay fit and healthy.
Keep exercising
The best place to start is with working out. You can go out to exercise only once a day. Walking, cycling or running is safe to do alone, but going to the gym or doing a fitness class isn't an option.
However, there are a number of studios now offering online classes as an alternative. By doing these, not only will you be supporting your local gyms and studios, but staying fit and healthy too.
1. Pause London – Pause studio, who offer yoga, Pilates and barre classes are now streaming ALL of their classes online. Booking the classes is exactly the same. The only difference is that you will need to download the Zoom app and then you will be emailed a link to access the virtual class – simple!
2. Yoga on the Lane – This London-based yoga studio are offering online yoga classes. To begin with, they're running two test classes, the second of which is on Wednesday 18th March from 8-9pm. If these go well, they'll be rolling out regular online classes via the Zoom app. For those who have had their income affected by COVID-19, Yoga on the Lane are also offering a £5 concession rate for the classes. For everyone else, classes will cost £8 per session.
3. The Fitting Rooms – For something a bit more high-tempo, why not check out The Fitting Room's online HIIT classes? The classes offer a full body work out with no equipment necessary, all from the comfort and safety of your own home! The session is open to people from all levels. By signing up, you will receive an access link which gives you 24 hours to access the video and get your sweat on.
4. Clifford Studios – Clifford Studios are offering their customers online circuit training classes; perfect for those wanting to push themselves to the maximum! You will need some basic equipment, such as a mat or towel and water of course, but it's a great way of keeping fit within the confines of your own home. After creating an account on Zoom, you will be sent a link to the class ten minutes before it starts.
5. Brighton Pilates – If you fancy a slightly higher-tempo workout than yoga, Brighton Pilates is offering online Pilates classes for their customers. For those with an existing membership, the classes are now included. Keep an eye out on their Instagram page @Brightonpilates for their latest online classes!
Manage stress
The 2020 Wellness Index found that 11 percent of all respondents felt extremely stressed on a regular basis, with a further 25 percent feeling an unhealthy amount of stress. The current situation is stress-inducing to say the least, so what can people do to manage their stress and anxiety levels whilst at home?
Regular exercise can certainly help with this, but here are five additional tips for those feeling exceedingly stressed during this period of self-isolation and social distancing:
To do lists can help with breaking down what may feel like a mammoth task ahead. If each day is digested into easier chunks it will instantly feel more manageable, not to mention the satisfaction one gets when crossing off jobs that are complete.
Separate personal and working spaces. Even though the comfort of one's bed may feel torturous to leave, the temptation to open a laptop from the warmth of a duvet should be resisted. Instead try and treat your days as you would when going to the office. Getting up, showered and dressed are the obvious recommendations (goodbye, pyjamas!).
Go for a walk before starting the working day, treat this as a sort of "commute" to clear your head. Ideally, people will return to a dedicated working station, thus helping separate what is 'home' and what is 'work'.
Keep talking! Just because people aren't physically together it doesn't mean the support of colleagues has disappeared. Video calls can be especially helpful in these situations, creating more of an authentic and real life-like exchange.
Take regular breaks, whether it's a walk, yoga, or even making a cup of tea, breaks are essential to ensure mental wellbeing.
Sleep well
Keeping on top of daily exercise and stress management practices should help with sleep during these testing times, however, it's still down to you to put the time aside to sleep!
We all know that extra episode on Netflix, or just one more chapter of your book is tempting, but now more than ever you need to be taking care of yourself!
This is particularly aimed at the 46 percent of you not getting your eight hours of sleep a night. Not only will it help you perform your daily exercises and keep on top of stress, it will help with your work throughout the day so you don't feel rundown.
Given that most of us are now sleeping where we work, there's no excuse not to get those eight hours in!