Fitness
Kirsty Gallacher On How Get Confident Swimming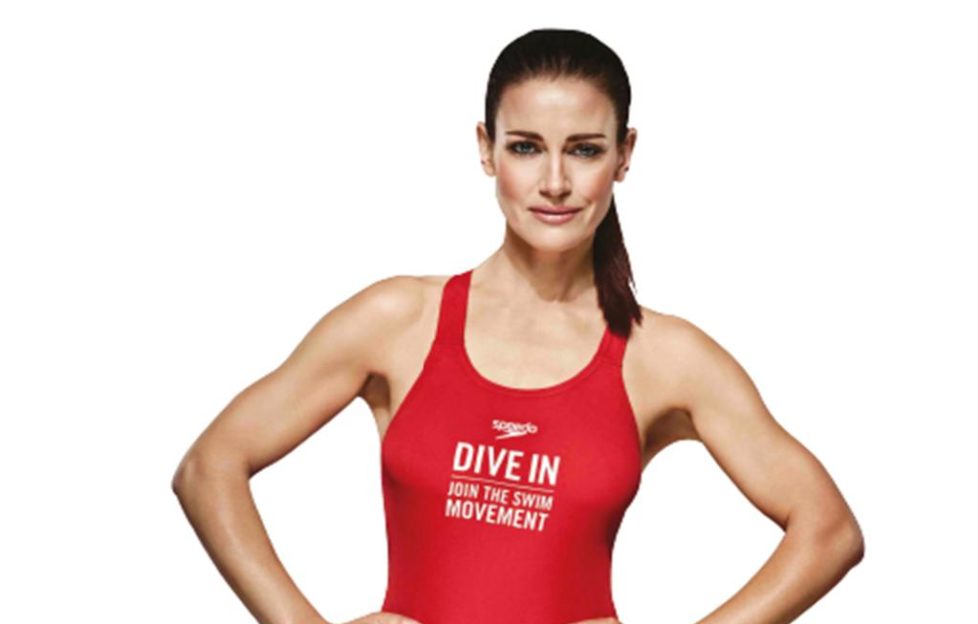 Fresh from a holiday in Sardinia with her family and buzzing with energy after a swim, Kirsty Gallacher barely stops to take a breath when we catch up with her on a sunny day in August to talk about her love of swimming and being in the pool.
The 40-year-old Sky Sports presenter and former Strictly Come Dancing contestant has long been known for her toned physique and she takes her health and fitness seriously, but swimming in particular has long been a passion for her.
"Exercise for me is really vital," she explains. "Not only do I like to feel strong and look toned, but fitness is good for your mind and it makes me feel great. Plus, I'm very energetic and need to put that energy somewhere," she laughs.
Alongside her presenting work, Kirsty is currently an ambassador for Speedo. For the past few months she's been travelling around the country promoting the swimwear brand's Dive In campaign which aims to get adults into the water and get swimming. With 10,000 free swimming sessions being offered at local leisure centres nationwide, it's a huge drive and it's clearly an area that the mum-of-two is very passionate about.
On being a water baby
"I've always been into swimming and used to swim a lot when I was younger," she explains. "When I was growing up I was lucky enough to have a pool at home and I was a bit of a water baby – in fact all of us Gallacher kids were. I really enjoyed it and did butterfly and front crawl at school too. Both my sons are strong swimmers and I think it's really important to teach children how to be safe in the water from a young age."
Nowadays, she swims twice a week and uses it to complement her weight training and sessions with her personal trainer.
"The swimming that I've been doing has been brilliant and it's worked really well alongside my other training. Since I've been in the water more, I've noticed that my muscles have been toning up quicker while I've been doing my weights training and I've definitely improved my cardio fitness too.
"What I love about swimming is that it can offer you whatever you want," she adds. "You can use it as a cardio session to get your heart rate up by doing lengths and really just going for it, or you can go in the pool for a relaxed stretching session. You can use the water to sort your body out and it just feels like rehab. I have a bit of an arm injury – I had a bad bout of tennis elbow which came from my gym work a few years ago – and sometimes it rears its ugly head – on these occasions, I get in the pool and work on my arms. Stretching them out in the water feels really nice."
How not to focus on the people by the pool
Her advice for people who are hesitant about getting into the pool is to start slowly. "Begin by doing 20 lengths and then slowly up it till you're doing 50," she advises. "You can do it at any speed and using whatever stroke you like and you'll soon see improvements."
And, most importantly of all – let any anxiety go. "A lot of people are very body-conscious and if they haven't swum for years it can feel quite scary getting into a swimming costume or bikini and getting in the water. I do understand that," she says. "But once you get past that and find a nice local pool, it's about letting go of your inhibitions and just diving in. Everyone's in the same boat, if you don't mind the pun. Everyone has the same concerns and fears and no-one will be looking at you – they're all concentrating on their own worries and their own goals. Once you've done it the first time it will get easier too and you'll soon realise just how beneficial swimming can be."
Kirsty Gallacher is an ambassador for Speedo's Dive In campaign, which is offering 10,000 free swim fit sessions across the UK from May – October to help adults improve their technique and fitness. Join the Swim Movement and sign-up at speedo.co.uk/Dive-In