Fitness
How To Fit In Exercise While The Kids Are At Home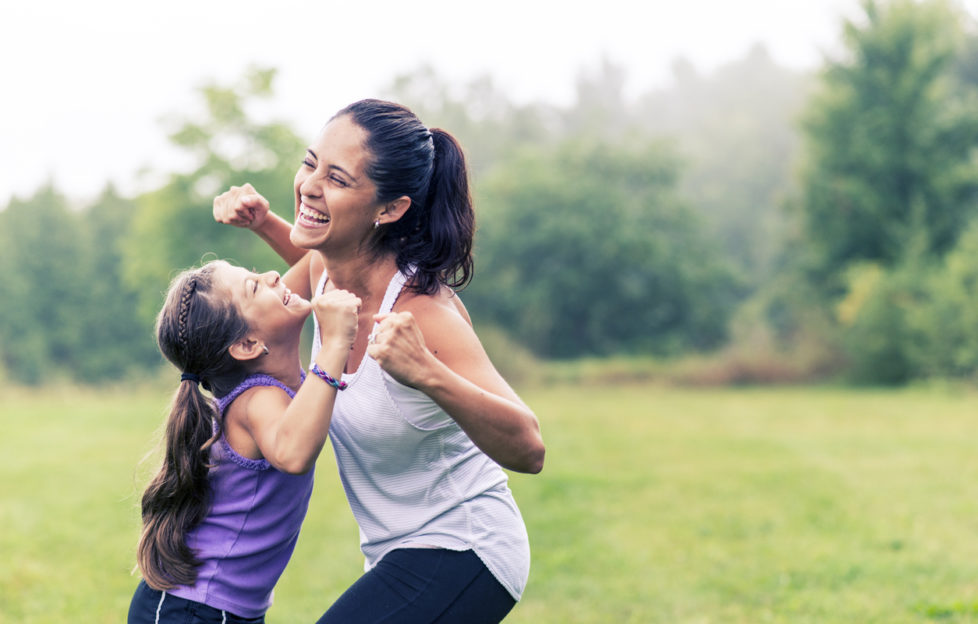 exercises outdoors with the kids
Finding the time to schedule in a workout can be tricky at the best times, but now the majority of British kids are stuck at home, squaring away a portion of your day to fit in a much-needed run or a yoga flow in your living room, can be twice as tricky when you've got a newborn or a bored kid on your hands.
With research showing that 42 percent of parents to kids would like to be fitter, however only 19 percent regularly working out, there's never been a better time to get your little ones doing a sweat-sesh with you. To explain how you can fit in a workouT, PT Steven Virtue (totalfitness.co.uk), shares his five tips and exercises to help you (and your children) make some time for fitness.
COMBINE PLAYTIME AND EXERCISE
While your kids are enjoying their playtime, join in and make this a time for you to be active as well. Whether it being going for a bike ride, playing football or an afternoon at the local playground, keep yourself fit by spending quality time with your children and enjoy the health benefits it has to offer. Zumba routines are a great way to involve them and they will love dancing around the room with you – not only is it fun but you will also burn fat as you move. Alternatively, why not make working out an educational experience, asking them to count your reps as you do various exercises. This is a great way to maintain a healthy lifestyle whilst spending quality time with your little ones.
MAKE NAPTIME EXERCISE TIME
For mums with a newborn baby or toddler, naptime provides the perfect opportunity for you to fit in a quick workout. Home workouts are a great alternative if you can't make it to the gym, with a variety of fitness DVDs or online routines available – simply find one which suits your fitness level and that you enjoy. If you prefer planning your own workout, create your own HIIT circuit (high-intensity interval training), using weights and dumbbells where you feel comfortable to raise the intensity. HIIT training is an excellent calorie burner and can be squeezed into as much or as little time as you have – perfect for while your child is napping. Just make sure they're in a separate room while you're jumping around!
TURN WALKING INTO A KID-FRIENDLY WORKOUT
If you're out and about, going for a fast walk or jog with your child's pram allows you to fit in a cardio workout while they enjoy their morning or afternoon nap. This helps to strengthen your core and arm muscles whilst you push the pram and allows you to get some fresh air as you exercise. Whether you're nipping to the shops or taking a stroll around the park, turning your walking routine into a gentle exercise will keep you active.
MAKE THE MOST OF SOCIAL MEDIA
King of morning motivation Joe Wicks is doing an adult-and-kid-friendly PE lesson every weekday morning at 9am to get the nation moving and previous cover star Davina McCall has made her online fitness platform, Own Your Goals, free to access for 30 days (24th of March). With plenty of apps full of at-home workouts to get you moving, there's no reason why you can't get stuck into a sweat-sesh at home. Looking for inspiration? Try our Workout At Home With Krissy Cela to kick off your new routine.