Fitness
Gabby Logan Talks The Future of Women's Sport And How She Juggles Work and Family Life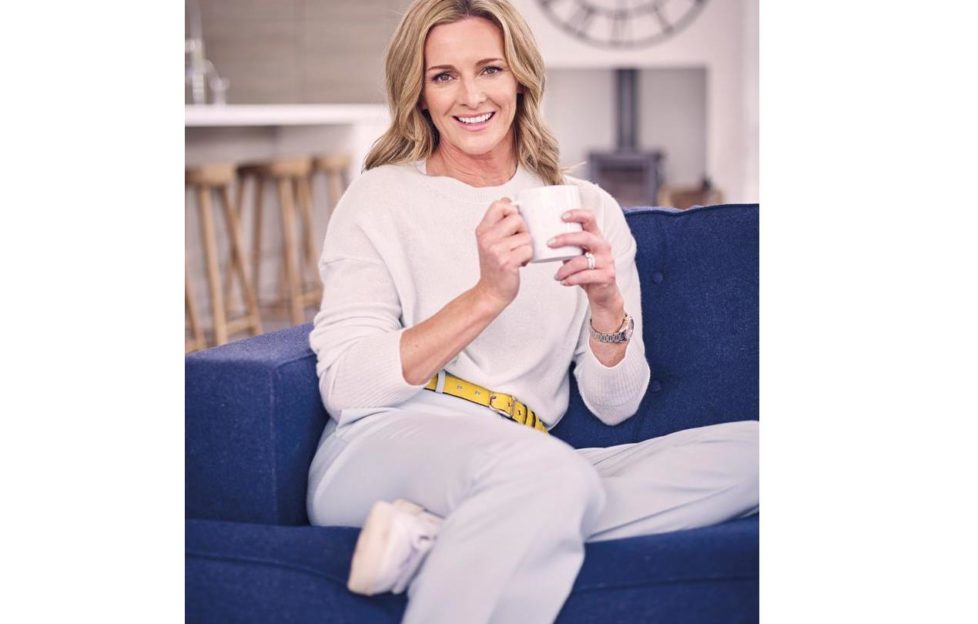 Gabby Logan on how a family tragedy shaped her, the advice she'd give to her younger self and the future of women's sport
When I sat down with Gabby Logan for this interview, she'd just been recognised in the 2020 New Years Honours List for services to sports broadcasting and promoting women's sport, which is an amazing achievement. A former international gymnast, Gabby began her broadcasting career more than 20 years ago and hasn't looked back since. Now mother to twins Lois and Reuben with husband Kenny Logan, a former Scotland international rugby union player, Gabby regularly presents programmes such as Match of the Day and The One Show and fronted the coverage of last year's Women's World Cup. I caught up with her to find out how she keeps her head in the game.
How do you feel about receiving your MBE?
"I was very chuffed and surprised and, more than that, I've been overwhelmed by the lovely response from people. I've had so many messages and flowers. I think it's been a really pivotal kind of decade. So, it's been great to have that acknowledged."
What do you think is the future of women's sport?
"The world of women's sport is dramatically different to the one it was 10 years ago. I think women's football is leading the way in terms of professionalism, salaries and opportunities in branding and marketing, which has trickled down to help other sports. There are a lot more opportunities now and hopefully it will continue to follow that trajectory because it's really important for young girls to see role models and to see possibility that my generation certainly didn't. There are so many more areas now that you can work in sport and coaching and the peripheral careers that all lead into professional sport. I think it looks very healthy."
How can we tackle inactivity in children?
"We need to take responsibility as a nation. You can't just blame one factor, whether that's families, government or education. I think making time at school for exercise is vital because some kids won't get the opportunity at home. But, for families that do have that possibility, I think they need to take their responsibility really seriously. Take your kids when they're little to learn to swim, or on walks and bike rides. Those kinds of things are also mentally so important, and that's where the education case needs to be recognised. You can't just cram six hours of lessons into kids every day without giving them that break, so I think we've got to start taking seriously what goes on in the national curriculum."
What does fitness mean to you?
"I know that my mental wellbeing is tied in with my physical wellbeing. I've always been into fitness. I suppose, when I was younger, I didn't realise the impact it was all having on my mental health but as I got older and the conversations about wellbeing have become more prevalent, I know that I'm happier and healthier when I'm physically fit."
How do you fit exercise into your busy schedule?
"I schedule it in the same way that you book a dentist appointment. So for me, I've got to be at the studios for 11am, I get the kids off to school and I train from 7:30 to 8:30am. It's about being really organised and not letting it slip. Sometimes I wake up and might not feel great but I know I'm always going to feel better once I've done some exercise. I make sure I put the clothes on and get out and do whatever it is I've decided I'm going to do."
Has your attitude to health and fitness changed over time?
"I've always enjoyed the benefits of it. When I was younger and a gymnast, it was clearly very focused on my training. Then I got to university and I wanted to keep fit because I liked feeling in shape, so I started running – I didn't know what else to do. I did a bit of university sport and then I got more knowledgeable about different types of training and started mixing with people who were more entrenched in the industry. I've met some brilliant trainers and gained knowledge on why you do certain things, which made my training more effective."
Have you got a favourite type of exercise?
"I like to do a variety of things. I do lots of weights and strength work, but I also really like yoga and barre. I'm not really a 'running through the mud' type of person, but because we live in the country it's just too soggy to use the trails in winter. Sometimes, I'll drive to the nearby woods and run there instead. Occasionally I might swim or play tennis, so it's seasonal as well, a bit like vegetables!"
Is it hard to juggle work and family time?
"I've been a mum for a long time now, so it's practice and factoring things into your diary. I make sure I know in advance the important things the kids are doing. Most days, we have breakfast and dinner together. It's about being proactive, as well. Last night, my daughter and I ended up watching something on TV that I didn't plan on, but she asked me to, so I did. I was thinking of all the things I needed to do, but it's important to take those moments when your children want to spend time with you."
What's been your hardest life lesson?
"The hardest experience I went through was when my brother died when I was 19, he was 15. It was a horrible and traumatic time for my family and there were lessons that you wish you hadn't had to learn – that was one that I definitely wish I hadn't had to go through. But what it did do, at 19 years old, was make me feel that life was about seizing each day and opportunity and trying to make the most of it, because life is very fragile. He had a very early death and was a very talented person who never experienced the success and the life that looked like it was destined to be his. That's life's very cruel lesson and I wish I hadn't had to learn a lot of things that I did from that experience, but it shaped me."
Behind the scenes
On her daily routine
"Every day is different. Today I've got a BBC Sport away day for rugby, but on Tuesday, I was doing some filming for a documentary, whereas yesterday I had a day of meetings. If I'm presenting live sport, I could be travelling somewhere to do a match. It depends on what time of year it is really, every week is different. I've never really had that Monday to Friday show, where I know where I'm going to be every day. This lifestyle probably suits me better."
On her daily menu
"Breakfast usually consists of something like avocado, salmon and spinach or porridge with peanut butter and banana – that keeps me going until lunch time. If I'm at home during the day, I enjoy whipping up a quick omelette or salad, but if I'm out and about, then I'll go to my favourite haunts like Pret or Leon as they have lots of quick and healthy options. I always make sure I have a TePe EasyPick in my handbag too if I'm eating lunch on the go, because they're great for using after a meal to keep your smile healthy and spinach-free!
On her goals for 2020
"I want to keep being able to do the things that I want to do and to stay strong and physically fit. I love being flexible and doing yoga, so I'd like to do a bit more of that. As I'm getting older, I've realised it's just not the exercise you do, it's also the food you eat – it makes such a difference. Certain foods make me bloated or feel a bit lethargic, so I want to keep listening to my body and be more attentive to it in that respect."
On advice for her younger self
"I think it's important to make mistakes. There's a real danger, especially with our kind of air-brushed world, that everything has to be perfect, but life is always presenting us with challenges and things that we have to try and overcome. When I look back at my teenage years and things I might have done slightly differently, there's always something I learnt from it. I think it's really important that I stress that to my kids that, you know, making mistakes is really important because that's how you really learn. It's always about comebacks and learning from your previous errors. The only thing I'd probably say to myself is don't cut your hair at 13 years old, because they were terrible layers!"
Gabby Logan is working with leading oral health company TePe to help promote healthy smiles and spread the word about the simple steps people can take to keep their teeth, gums and smile healthy in the long term. Visit tepe.com for more information.