Fitness
Five Minutes With Jodie Kidd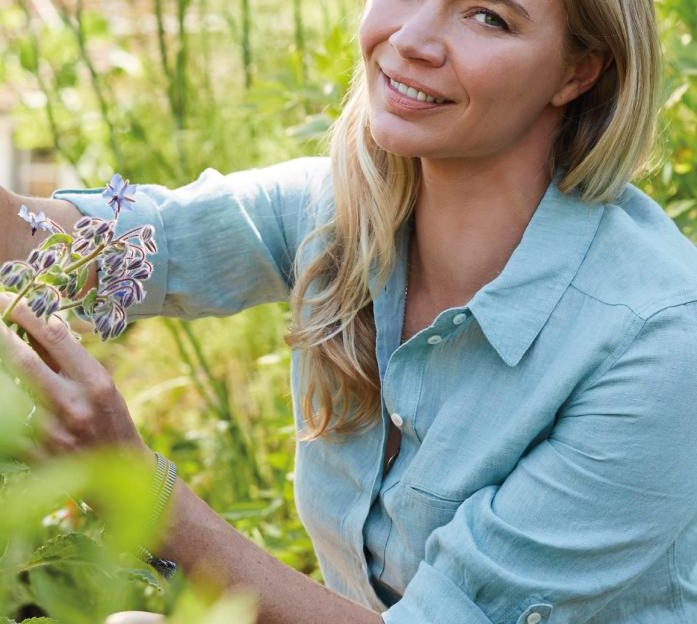 What tips do you have for finding a balance?
Balance is key – if you've had an extremely strenuous couple of days over-indulging, it's important to go to the gym afterwards. Make sure you have a big workout after a hefty night out, even if it's a few days later. If I've been travelling and haven't had a huge amount of sleep, I'll always ensure I get to bed early. I'm really into jasmine tea as a method of chilling out. I didn't used to do this until I did [my personal trainer] Amélie's programme and I saw how much I needed to have a clean system to look after myself.
If you're feeling de-motivated, what's the exercise activity that gets you back in the zone?
I'm very lucky that I've got dogs – it's difficult to say no to them and their little faces. Living in the country really entices me out, too. I also love going on the cross trainer. You don't always need to do an hour and completely kill yourself. Even 10 or 15 minutes can change how you feel.
Was there a lot of pressure as a model to simply be thin, rather than healthy, and how did you overcome that?
Back then you had to be a certain size to model. I was tall and willowy. I started suffering from anxiety and that was hard – they didn't know what anxiety was 20 years ago! I lost my appetite and couldn't sleep. That was the '90s though – it was a crazy time. Nobody really understood panic attacks and how to deal with them. I wanted to eat but I couldn't because I permanently felt sick. My life meant I was drowning in anxiety and I suddenly realised I had to get out to the countryside and start a new life, away from the pressure of it all.
Do you think women suffer from low self-esteem because they think they need to look a certain way?
This mad Instagram-fuelled obsession with 'perfection' is really tough. I'm not saying that, in a magazine, they didn't change the colour of our eyes or edit things – of course they did. It does seem scary that models are having surgery, yet people work out for many hours a day to try and be like them. The images of women like this are so accessible now. The older you get, the happier you become in your own skin. The other side, I guess, is that social media provides freedom to talk and share information. The modelling industry is hitting back with some promising changes, such as banning the size zero, which is great!
What does your daily routine look like, and has it changed a lot over the years?
It used to be just getting up and working, flying around the world and being constantly shattered and just sleeping whenever I could sleep. That was my routine. It varies so much, whether I'm getting up early doors, getting on a train, or in the pub cooking for my monthly curry night. Making the time for daily exercise really helps boost my energy levels. Amélie's workouts are realistic and I can do them at home. Fitting in one of the exercise routines from the plan gives me endorphins and headspace to take on the day.
What's your favourite treat meal, and your go-to healthy one?
I react to a lot of wheat and pasta but I really do adore it. I enjoy little more than a huge bolognaise or lasagne with a massive glass of red wine. My go-to for a quick lunch is generally a big salad – usually with lettuce that I've grown from the garden – with some chicken and lovely herbs and spices. I tend to cut out all oil and use apple cider vinegar, which gives it a fresh and crisp touch.
What advice would you give to someone in a cycle of fad diets and extreme weight-loss tactics?
I've tried many myself over the years, be it 5:2 or Atkins or whatever. You see it all pile back on as soon as you have a cheat day. It wasn't until I started following Amélie's plan and partnered exercise with proper clean, fresh eating that I was able to reset my body. I've now managed to introduce wine and drinking with friends into my diet and I still feel amazing. Everything's staying off really well and I feel like this is a lifestyle change. I'm so in tune with my body that I can actually feel myself reacting badly to heavy and unhealthy foods. Beforehand, I really didn't realise how important it was to listen to signs, such as stomach aches and feeling tired. Now, when I eat badly, I genuinely want to exercise to alleviate some of these symptoms.
Have you always enjoyed cooking, and was this because of anyone in particular?
We used to grow all our own veg at home when I grew up and it's so lovely doing the same things with my son Indie. It wasn't until I got asked to do Celebrity Masterchef that my relationship with food really evolved. We need to have fun with it, all the textures and flavours can be amazing. I always advise my friends to go on a cookery course – it's not just fuel, it's therapeutic and it really can provide such great family time. Creating something out of nothing and experimenting is always exciting, it's so important for our overall wellbeing.
Jodie's book with French personal trainer Amélie Khellaf-Govett Balance Your Life is available now, (DK, £16.99)