Fitness
Easter Weekend: 3 Delicious Recipes To Try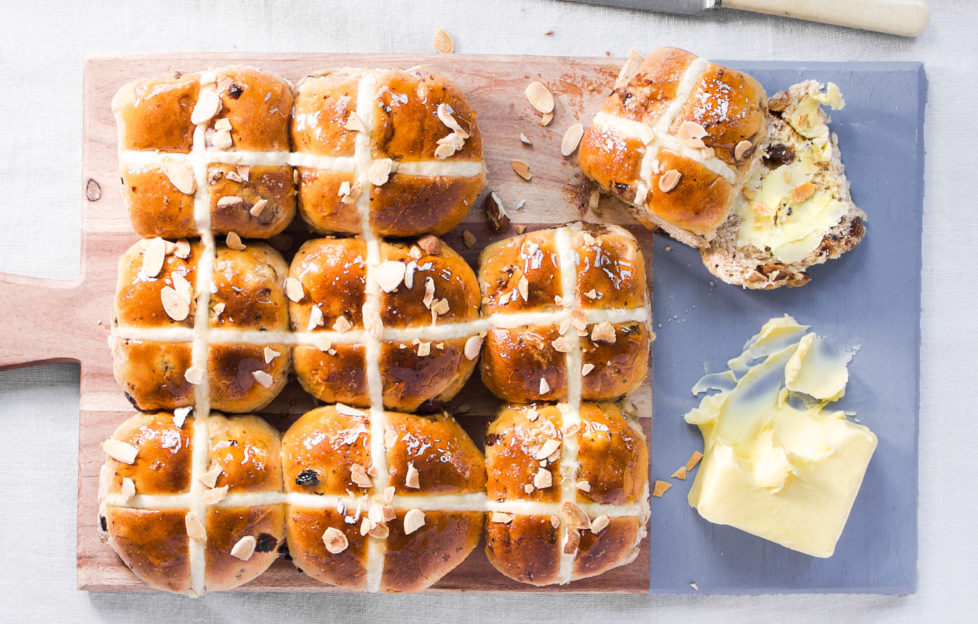 With the 'normal' bank holiday plans out the window, why not get creative in the kitchen with these Easter treats to make with all the family? And don't worry, there's not a banana bread in sight.
Rocky road bites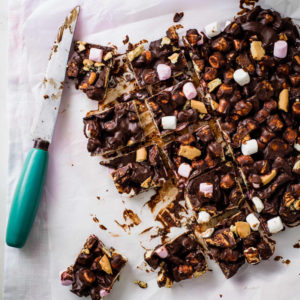 Ingredients
Low fat spread
200g dark chocolate, broken into pieces
Tesco Pink & White Mini Marshmallows
50g reduced fat Rich Tea biscuit(s)
70 g, crushed into small pieces
Method
Line an 18cm square cake tin with baking paper, leaving some paper hanging over the edge of the tin to make it easy to lift out. Put the low-fat spread and chocolate in a large microwave-safe bowl and heat in the microwave for 1 minute, or until melted. Set aside for 5 minutes to cool slightly.
Reserve a few of the marshmallows for decoration, then add the rest to the chocolate mixture, along with the biscuits, and stir well to combine. Spoon the mixture in the prepared tin and smooth the top with a spatula. Scatter over the reserved marshmallows and chill for 1 hour or until set.
Lift the rocky road out of the tin, remove the baking paper and cut into 20 equal pieces.
Recipe: WW
Date and walnut loaf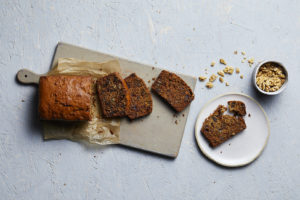 Ingredients
4 tbsp Flora Cuisine or 55g Flora Buttery
225 g (8oz) dates, chopped
50 g (2oz) vanilla sugar
50 g (2oz) caster sugar
0.5 tsp vanilla essence
1 tsp bicarbonate of soda
125 ml (¼ pint) boiling water
50 g (2oz) walnuts, chopped
1 egg, Medium, lightly beaten
225 g (8oz) self-raising flour, sieved
2 tbsp raspberry jam
150 ml whipping cream, whipped until thick
-Ganache-
115 ml whipping cream
100 g plain chocolate, broken into pieces
-Decoration-
Icing sugar, to dredge (optional)
Walnut halves
A little jam, to secure
Method
Place the Flora, dates, sugar and bicarbonate of soda in a bowl.
Pour boiling water over the contents of the bowl. Allow to cool a little.
Add chopped walnuts, beaten egg and flour, and mix well together.
Pour into a greased, greaseproof-lined 900g (2lb) loaf tin.
Bake on the middle shelf of a preheated very moderate oven 160°C, 150°C fan, gas mark 3 for approximately 1¼–1½ hours.
Leave the loaf in the tin for 10–15 minutes before turning out and removing paper. Cool on a wire tray.
Dredge with icing sugar and decorate with walnut halves, secured with a little jam before serving.
Hot cross buns

Ingredients
For the buns:
• 192g almond flour
• 128g The Groovy Food Company Organic Coconut Flour
• 170g The Groovy Food Company Organic Wildflower Honey
• 6 eggs
• 250g The Groovy Food Company Organic Virgin Coconut Oil, melted
• 2 apples peeled and grated
• A handful of raisins
• 2 tsp. nutmeg
• 3 tsp. cinnamon
For the icing: • 1 tbs. The Groovy Food Company Organic Coconut Flour
• 1 tbs. tapioca flour
• water
Method
For the buns:
1. Preheat your oven to 180°C (350°F).
2. In a large bowl, mix the almond flour, Organic Coconut Flour, nutmeg and cinnamon in a bowl.
3. Add the honey, Virgin Coconut Oil and eggs and mix well.
4. Now add the apple and sultanas. Mix again until it forms a dough.
5. Once the mixture is all combined, roll in to 12 even balls.
6. Place them in a grid formation (3×4!) on some baking paper and set aside.
For the crosses:
1. Place your two tablespoons of Organic Coconut Flour and tapioca flour in a small bowl.
2. Gradually add drops of water while stirring, until a thick white paste forms. Use a fork to make sure there are no lumps.
3. Put the paste into a piping bag, and pipe a cross on to the top of each bun.
4. Now place the buns into the preheated oven for 30 minutes.
5. Serve warm and with more butter.