Body Care
Caroline Flack on shaping up on her own terms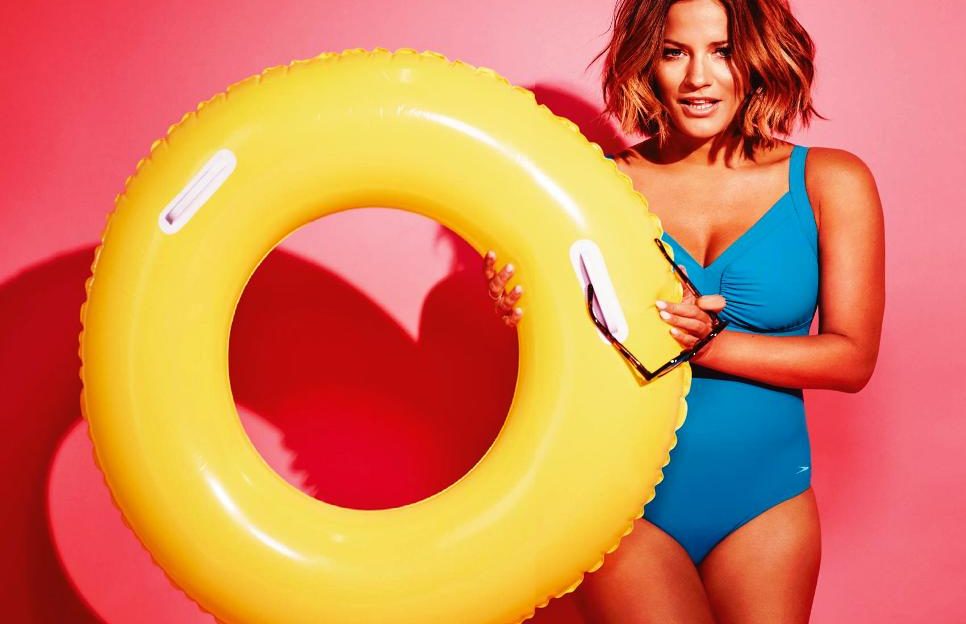 "I never thought about wearing a swimming costume before. It just used to remind me of what my mum used to wear – a proper high legged cossie," Caroline says laughing. Luckily, there's no sign of an eighties throwback today as we're here to fawn over Speedo's new summer Sculpture collection and talk about the TV presenter's partnership with the swimwear brand. While many of us would recoil at the thought of posing in our one-piece, it's not surprising that Flack isn't feeling so shy since embarking on a sugar-free challenge that's left her a few pounds lighter and a whole lot happier.
There's been a lot of coverage in the media about your weight. Was that the driving force behind your recent slim-down?
"I'd hate to think I did this for anyone else. The truth is I did this for me – to make myself feel the very best I could and this is the way I decided to do it. I knew that this year was going to be challenging because of my work schedule (Caroline's filming the new series of Love Island on ITV2 and presenting the Sunday breakfast show on Heart FM with Gethin Jones) and I didn't have as much energy as I wanted, so I thought "what's the point in not feeling your best?". It was as though I needed to plug myself in and recharge my batteries."
We can see that you've lost a few lbs, do you know how much weight you've lost?
"I don't know because I don't like to weigh myself. But it was never really about losing weight, it was about getting into a better shape. I used to dance a lot when I was younger and when I did Strictly Come Dancing so I knew I was capable of achieving a leaner body and I wanted to get back to that. But I'm easily tempted – I'm a really sociable person, I love to eat and I wasn't very educated about food so I wanted to learn more about it – if I was going to do this I wanted to do it properly."
That's quite a shift in perspective. What was your starting point?
"I challenged myself to completely detox my body and overhaul my fitness routine for 12 weeks and I told myself that if I could do that I'd be really proud of myself. I sat down with a trainer and nutritionist who was recommended to me and went through what I was eating, my work schedule and what was doable. Taking that into consideration, she wrote out a nutrition plan for me, which was difficult to stick to in the first couple of weeks but once I changed my lifestyle and a few habits it became really easy. What made the biggest difference to how I looked and felt was cutting out all sugar. It sounds extreme but it's not – there's sugar in so many foods that we don't realise, even things that we think are relatively healthy, so it made me more mindful about what I was eating and checking the ingredients."
How has this affected your day-to-day eating plan?
"I'm consuming more calories now than ever before, they're just the right calories. I'm always starving in the morning so I eat a lot for breakfast – it's usually scrambled or poached eggs, bacon, avocado, mushrooms or sometimes even steak. I then go to the gym and have a protein shake afterward to keep me going until lunch. Usually lunch and dinner is chicken or fish with steamed vegetables. I still have my treat days, I'm not going to give up chocolate for anyone, but it's dark chocolate which is healthier. You've got to live life and enjoy food and good treats are out there."
That's your diet sorted. How did you tackle the exercise element?
"I told my trainer that I don't like running or getting out of breath and she told me that I don't have to, I can still get my heart rate up using weights. I didn't believe her at first but it has completely transformed my body. Some women are put off weight training as they're worried about bulking up but I've been lifting heavy weights for 14 weeks and I haven't become any bigger, just more toned. I used to feel really intimidated entering the free weights area with all these burly men standing around but now that I know what I'm doing, I feel totally comfortable. I try to work out three times a week and combine this with hot yoga to keep my muscles long and lean as well as calming my mind. I walk out of a Bikram class thinking "why do I feel so good?" and it's because of the focus and meditation aspect as well. I've found a lovely fitness routine that works for me and it's about what you enjoy that makes you feel better."
You've spoken about your love of dancing – have you hit the floor much since Strictly?
"No, sadly I haven't but I want to because that was a great way to keep fit. At the time, I was dancing all day so instead of one burger, I'd have two or five lattes which is why my body didn't change that much. My trainer says that to make a difference to your shape it's 80 percent diet and 20 percent exercise and I think that's completely true."
Why did Speedo's Sculpture summer campaign appeal to you?
"There seems to be one type of body out there at the moment. If anyone looked through a magazine from a different era they'd assume that that's what all humans looked like. It's not and it's time we started to show what actual bodies look like and that all women don't look the same. That's what I love about Speedo's Sculpture swimwear – they're for everyone of all sizes. Whenever I've worn bikinis in the past I've always thrown a vest over the top, especially if there's alot of people around the pool. But I don't need to do that with these Sculpture swimsuits – it's like having Spanx on the beach!"
You're very active on social media. Do you feel a responsibility to be a good role model?
"Absolutely. If you're in the public eye you're putting yourself out there and I'm very conscious of that. I want to set a good example and show what's real. Being on Instagram is fun but it's not real life – you show the good angles with the right lighting and flattering filters, which I'm guilty of too, but it's important to recognise what's genuine. My 10-year-old niece recently joined Instagram and it's only then that I thought about what she'd see. As adults we're more likely to know what's airbrushed, but she isn't."
Flack's figure fixers
Legs
Spilt squats with hand weights (3 sets of 12 reps)
1. Start in a staggered stance with the rear foot elevated and front foot forward.
2. Hold a dumbbell in each hand.
3. Begin by flexing your knee and hip to lower your body down. Maintain good posture throughout the movement.
4. At the bottom of the movement, drive through the heel to extend the knee and hip to return to the starting position.
ABS
Seated ball crunch (3 sets of 15 –20 reps)
1. Lay on your back the floor with the knees bent.
2. Hold a medicine ball in both hands, at arms length, pointing to the ceiling.
3. Slowly lift your head, neck and shoulders off the floor.
4. Keep the ball at arms length and the chin at the same distance from the chest at all times throughout the move.
5. Slowly return to the starting position.
Overall
Body walkout with push up (60 seconds)
1. Stand tall with your shoulders pulled back and your arms relaxed at your side.
2. Bend at your hip and slowly lower your body down to the floor. Walk-out into a push-up position and perform a single push-up.
3. Now, walk yourself back to the starting position, stand back up tall and repeat for 60 seconds.}