Fitness
A Beginner's Guide To Barre Workouts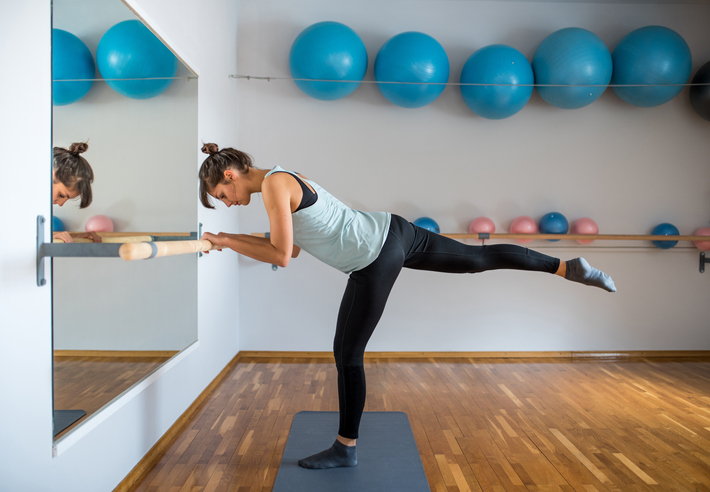 Side view photo of a woman practicing with a barre in the studio
Designed to strengthen and sculpt, barre exercises combine ballet-inspired moves with a type of Pilates and yoga. You don't need a studio for the perfect workout, as this beginner's guide to barre will make it a breeze.
Raise the barre: why you need to give it a go and the best barre workouts you can do at home
If you haven't hit the barre with your friends yet, then where have you been?! Unlike being served a G&T and having a catch up, this kind of barre is an innovative and challenging workout that aims to torch calories and tone muscles like you've never experienced before.
The barre basics
Inspired by the classic and graceful ballet practice, your barre core class requires muscular strength and balance, incorporating demanding moves to help you create a lean physique. So, what can we expect from our first class?
"Think high repetition exercises in a deep isometric contraction until those muscles fatigue and start to quiver and shake – that's a barre class," says Lisa Todd, a Barrecore instructor. "We then lengthen out the muscles with a deep stretch.
"It's high intensity, but low impact meaning you get a great resistance and cardiovascular workout that will blast fat and increase your metabolism throughout the day."
What is barre?
Barre is a form of physical activity that uses a ballet barre that you would typically find in a ballet studio, and it's this barre that you use to perform moves, such as plies and static stretches.
Torching calories long after your workout is a benefit of many high intensity interval workouts, but Vicki Anstey, founder of ballet fitness fusion studio Barreworks, stresses that ballet offers something very different.
"Many sports and high impact workouts focus on dynamic, powerful movements, neglecting the all-important postural muscles that keep our bodies held together, functioning in a well-balanced state," she says.
"By setting the foundations of strong bio-mechanics, ballet lifts bottoms, creates chiselled abs, trims thighs and defines arms, giving you perfect posture and a sculpted physique."
Why has barre become so popular?
It's no surprise that the number of searches for "barre classes near me" has increased dramatically over the past couple years with the promise of real results from just a few barre fitness classes.
"You don't need to train as hard as a pro to see the results – you'll be able to see a big difference after just a few sessions," Lisa says.
"After four classes a week you will see a flatter stomach, defined arms and a perkier derrière! The key to getting through a class is to give everything a try and know that each time it will challenge you in a different way."
And, even though you may have never taken a ballet class in your youth, it's not essential that you have past experience of barre fitness.
"Barre classes are for all age groups and fitness levels – from the injured to the pregnant," says Lisa. "It can even help strengthen muscles that have become weak from a trauma or some time off."
Pilates vs barre
Although the environment may look the same (group setting, dance studio and mats), unlike Pilates, the barre concept tends to focus more on leg strength, helping to tone, sculpt and create a lean physique, without adding 'bulk' by using ballet barre exercises.
"It works because a lot of ballet moves use micro-movements, in which you move just an inch or two," explains former dancer Carrie Rezabek Dorr.
"They take momentum out of the equation, forcing you to stay in the contraction, which tires muscles faster, giving you faster results!"
Types of barre workouts
There are a plethora of barre workouts that you can try and the results won't vary, according to experts.
Ballet barre
A ballet barre workout is one that is a barre fusion of ballet, yoga and Pilates all in one. Hailed for its strengthening and toning benefits, this could be the one to try before experimenting with other types.
Pure barre
Ready to float like a butterfly and sting like a bee? Channel your inner Ali with a fast-paced fusion of high intensity boxing exercises and core-crippling ballet moves.
Founded by Paola's BodyBarre, the brand new Boxerina class is a one-of-a-kind workout that promises to tone and lengthen while also torching fat. The result? A lean dancer's physique in virtually no time at all!
What will I need to start a barre class?
Your first barre class will be different from any dance class you've ever experienced, but don't worry, your instructor will help you every step of the way.
"They know how to work the body in a particular way and know how you're feeling from first-hand experience," explains Vicki.
"While you may not be flexible during your first class, stick with it and you'll soon be amazed by what your body can do!"
Once you've mastered the moves of your ballet barre workout, you may be wondering how you can kick it up a notch.
"The best way to boost your barre workout is to make sure that you're doing the right technique so you get the most out of your session," says Niki Rein, founder of barrecore.
"Try to be mindful through each movement that you're in the right position, so asking yourself 'Is my technique the best it can be?' will help you target more muscle groups and work the entire length of them for better results.
"The second question to ask yourself is: 'Am I working at my challenge point?' This is when the muscles you are contracting feel a deep burn and you start to feel a trembling sensation – you're in the correct position for maximum results."
Where are the best barre classes in London?
You could argue that London is the ultimate hub for barre classes, with a range of studios competing for your time and attention. Luckily for you, we've rounded up the best studios in the capital to help you achieve your barre body.
FLY LDN
This is London's leading immersive yoga and low impact training studio, which has classes to suit all fitness preferences. From Chill Yoga to Skills & Drills, you can also mix up your exercise regime with Small Group Training Low Impact classes, Barre sessions or Dynamic Pilates.
Xtend Barre
Located in central London, its famous Xtend Barre workout combines dance, Pilates and ballet. It promises to get your heart rate up and you'll be able to feel the ballet burn, with no prior dance experience required.
Barrecore Mayfair
Sculpt your body and your mind with this barre London studio. Using your own body weight and our unique combination of high repetition isometric exercises and restorative stretches, you'll soon be familiar with the barrecore method in no time!
The best barre socks
"Workout clothing and bare feet is fine for first-timers. But once you're hooked, it helps to have a pair of soft-soled ballet barre socks so that feet are protected," says Vicki.
"Then the world is your oyster invest in super-soft leggings and layer up in true ballet-style with leg warmers, crossover cardigans and a back-enhancing leotard if you dare," she says.
Super soft, lightweight and sweat-wicking fabric
Arch support for extra comfort and security
Anti blister heel panel and ankle lip to prevent excess rubbing
Products with this label are made with at least 50% organic cotton, which is produced without the use of any synthetic pesticides and fertilisers or genetically-modified seeds. Most organic cotton is rain-fed, leading to significant water savings, and organic agricultural practices also ensure that farmers produce more than one crop, which supplements their food and income and helps regenerate the soil.
Perfect for yoga, Pilates, barre, and dance, these Grippy Yoga Barre Socks from Gaiam are designed to keep you centred during your session.
Based on a ballet inspired design with criss-cross top straps to keep the socks in place, non-slip silicone grippers on the sole will keep you from sliding around, and are ideal either with or without a mat.
Ballet barres for your home
If you're wondering whether you can get a ballet barre for sale to use in your own home, the answer is yes!
From the portable ballet barre type to your own personal stretch machine, we've got the best suggestions for you.
XRX Portable Free Standing Ballet Barre
These exercises are also great for boosting your mood.