Fitness
4 Recipes Using Store-Cupboard Essentials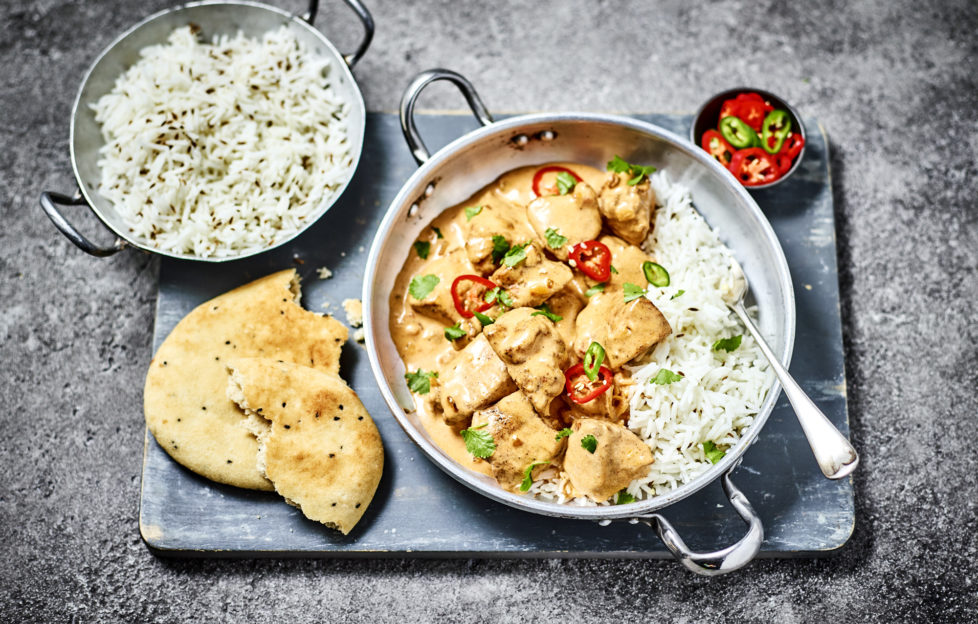 Cheap, long-lasting and perfect for when you're making use of what's in the cupboard; tinned tomatoes can add a sweet and intense flavour to your most favourite and classic dishes.
From chopped tomatoes and passata, to plum tomatoes and puree, Tarantella, the experts in organic tomato-based ingredients, share their knowledge on ways you can make the most of your tomatoes.
Butter Chicken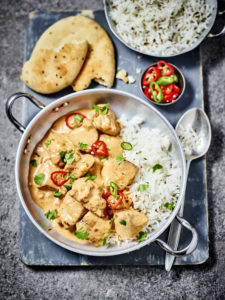 Ingredients
225g butter
1 onion, finely chopped
1 tbsp crushed garlic
1x 400g tin Tarantella Organic Chopped Tomatoes
710ml double cream
2 tsp salt
1 tsp cayenne pepper
1 tsp garam masala
680g skinless, boneless chicken breast, cut into bite-sized chunks
2 tbsp vegetable oil
2 tbsp tandoori masala
Method
Preheat the oven to 190°
Melt a few tablespoons of butter in a heavy-based pan over a medium heat. Stir in the onion and garlic and cook slowly and gently until the onion caramelises to a dark brown. It should take around 15 minutes.
Meanwhile, melt the remaining butter in a saucepan over a medium-high heat, along with the Tarantella tomatoes, cream, salt, cayenne pepper and garam masala. Bring these ingredients to simmer, then reduce the heat, cover and simmer gently for a further 30 minutes, stirring occasionally. Stir in the caramelised onions towards the end.
While the sauce is simmering, toss the cubed chicken breast in the vegetable oil until well coated, then season with the tandoori masala and spread evenly onto a baking sheet.
Bake the chicken cubes in the oven for about 12-15 minutes. When cooked through, add the cooked spiced chicken to the sauce and simmer for 5 minutes.
Serve with plain boiled basmati rice and naan bread.
Chilli Con Carne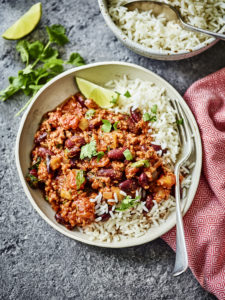 Ingredients
2 tbsp olive oil
450g lean minced beef
1 onion, chopped
1 tsp hot chilli powder
1 tsp ground cumin
3 tbsp Tarantella Organic Tomato Puree
300ml hot vegetable stock
1x400g tin Tarantella Organic Chopped Tomatoes
400g red kidney beans, drained and rinsed
40g coriander, chopped; plus extra to garnish
Salt and pepper to season
Method
Heat a tablespoon of olive oil in a large non-stick pan and fry the beef for 10 minutes until well browned, stirring well as you go to break up any lumps. Remove the meat from the pan with a slotted spoon and set aside.
Add the remaining oil to the pan, then fry the onion until soft and golden.
Add the spices to the onion and fry for a minute, then return the browned beef mince to the pan. Add the tomato puree, stock and Tarantella Tomatoes. Bring to boil, then reduce to simmer. Continue to bubble gently, uncovered for 35 to 40 minutes.
5 minutes before you're ready to serve, stir in the kidney beans and the coriander, then season and simmer for 5 minutes.
Serve with rice.
Aubergine Parmigiano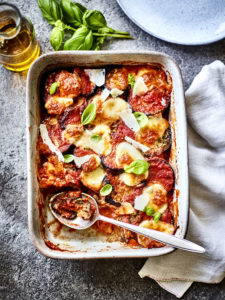 Ingredients
3 aubergines
2 tsp salt
2 tbsp olive oil
400g mozzarella, torn into pieces
600g Tarantella Organic Passata
Salt and pepper, to season
Bunch of fresh basil
80g Parmesan, grated
Method
Preheat the oven 180°C.
Cut the aubergines into 1.5cm thick slices, then sprinkle liberally with salt, lay them on one plate and weigh them down with each other.
Leave the aubergines for 30 minutes, then rinse the salt off and dry the slices.
Heat the olive oil in a non-stick frying pan and fry the aubergine in batches until golden. Drain on kitchen roll.
To assemble your Parmigiano; layer a slice of the aubergine, then mozzarella, salt & pepper, basil and Parmesan in an ovenproof dish. Continue layering until all the ingredients are used up.
Cover with foil and bake in the oven for one hour before serving.
Bean Casserole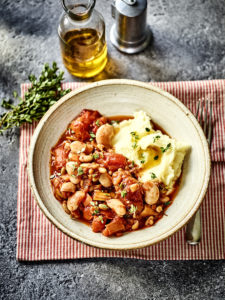 Ingredients
1 tbsp olive oil
1 onion, finely chopped
1 garlic clove, crushed
1 carrot, chopped
1 leek, chopped
1 tbsp Tarantella Organic Tomato Puree
1x400g tin Tarantella Organic Peeled Plum Tomatoes
200g tinned butter beans, rinsed and drained
400g tinned flageolet beans, rinsed and drained
222ml red wine
250ml hot vegetable stock
1 tbsp fresh thyme leaves
Method
Heat the oil in a large pan and fry the onion, garlic, carrot and leek until soft.
Add the tomato puree, Tarantella Tomatoes, beans, red wine, stock and thyme and simmer for 15 to 20 minutes.
Serve with mashed potato.